Academics' Choice Award™ Winner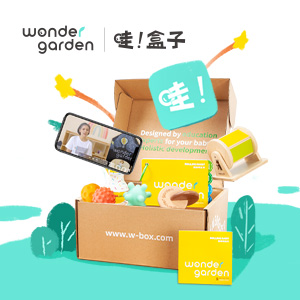 Wonder Garden
Ages: 0 - 6
Price: $105.02 USD | 699 RMB
Type: Toy, App, Game, Subscription Box
By
Beijing Yitongzhijia Education Technology Co., Ltd.
Description
Wonder Garden wow! Box is a professional family early education brand created by Eaton International Education Group. It aims to provide 360 professional parenting family solutions integrating education and upbringing for families aged 0-6, including character literacy courses, age-appropriate playing-aids, early education APP and Wonder Assistant The four sections meet the early education needs of the new generation of parents for their children's talent enlightenment and potential development.

Character Literacy course: Wonder Garden wow! The box is based on the Montessori education concept, integrated with Pickler, Reggio's education concept, combined with Eaton's 20 years of international education practice experience, refined the Wonder Theory education concept more suitable for Chinese babies, developing language, communication, cognition, practice, social emotion from sensory experience, movement. Five development dimensions of the curriculum, including Montessori Plus class, STEAM class, Parenting class, art class, sports class, language class, and music class seven types of courses. Pickler American Association president Elsa Chahin professional interpretation of children's monthly development characteristics and the key to children's growth.

"Age-appropriate teaching AIDS": Wonder Garden, the core concept of "Box" is to use passive toys to make children more active. It advocates the use of highly creative and exploratory passive toys to fully stimulate the initiative of babies. At the same time, under the premise of fully respecting the law of children's growth, each teaching aid has been carefully researched and developed by hundreds of teaching and research experts and industrial designers. According to the age of the month, the key ability development and training are carried out, and the character literacy courses are combined to complete the double leap of ability training and character improvement.

Wonder Garden "Wow! Box APP provides parents with a full range of parenting knowledge, including "Wonder Early Education Hall", "Course Center", "ability assessment", "1V1 parenting consultant" and other content modules.

"Wonder Assistant" : provide parents with parenting questions, scene use service support, parents learning assistance and other professional partnership services.

Wonder Garden "wow! "Box" provides parents with a relaxed and efficient parenting ecosystem, allowing parents and children to harvest the wonderful growth together.


Review Highlights:
We loved Wonder Garden! Everything came in a nice organized box with neatly displayed items. I let my little one choose. He chose the Wow Lisa and Xylophone. I played a few notes and then he wanted to try - and he loved it! The waddling chicken was fun too. We then read the book on opposites. These products are made out of high quality materials which is very important to me. I'd recommend this product to anyone with a one year old baby.
Wonder Garden, is wonderful collection of high quality items to aid in the cognitive development of your seven month old baby. The wooden box is of the highest grade solid wood, ideal for a baby to explore. The box and accompanying balls are great for babies at this age to practice pinch holding smaller items. This product was obviously created by a professional in the field of early child development. I look forward to reviewing more high quality products like this in the future!
Children practice fine motor skills (picking up diverse objects, rolling a ball), feeling textures, eye hand coordination, making different faces, listening, exploring, and much more.
Buy this product at:
As an Amazon Associate we earn from qualifying purchases.