Academics' Choice Award™ Winner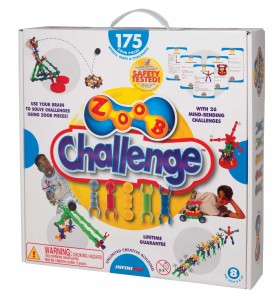 ZOOB Challenge
Ages: 8 and up
Price: $42.99
Type: Toy
By
ZOOB
Description
The ZOOB 175 Piece Challenge Kit allows you to design and build creations to solve challenges. There are 26 mind-bending challenges with multiple possible solutions: hitting targets, building a ramp, making balls bounce, build a zip-line and much more! This building set is for older kids and helps kids learn and apply S.T.E.M. principles (Science, Technology, Engineering and Math).
Review Highlights:
I popped open the box and spread everything out on the living room floor. Ilana, age 9, went right for the guide booklets. She lined up all the pieces and methodically figured out how they could go together. Kalea, age 5, soon joined in, but she jumped in with trial-and-error. Within a couple of minutes, both girls had built something. For my part, I was pleased with the well-organized guide booklets and challenge cards, as well as the well-made parts. Lots of possibilities.
Buy this product at:
As an Amazon Associate we earn from qualifying purchases.