Academics' Choice Award™ Winner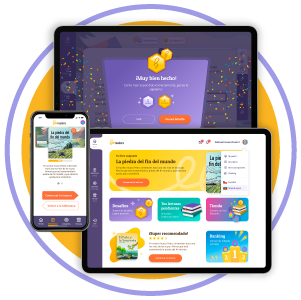 Beereaders
Ages: 7 - 18
Price: $38.00
Type: Website, Book, App
By
Beereaders, Inc
Description
"Beereaders" is a supplemental digital Spanish reading comprehension program with the goal of strengthening reading comprehension skills of emergent bilingual students in grades 2-12. Our digital platform promotes reading skills using adaptive learning in a instructionally sound and gamified environment, providing the growing population of Spanish-speaking students with tools and resources that allow them to improve their reading comprehension.

Students have access to an interactive digital platform that features more than 1,000 books of authentic Spanish literature and 10,000 fiction and nonfiction Challenges (short texts) from around the Spanish-speaking world, to encourage strong reading habits and a love of reading.

Beereaders program is a flexible instructional resource for bilingual, dual language, and heritage language programs, for use in classrooms and at home. Beereaders is available in both online and app versions, allowing for interaction with our contents on any device (cell phones, tablets, PC), anytime and from anywhere--even remote locations without an internet connection.


Review Highlights:
Beereaders uses an adaptive learning approach to meet the needs of the individual student in a unique way - as students progress their skills, they receive digital incentives such as prizes that encourage and engage Spanish-speaking students through each step of their reading comprehension journey. Beereaders contains hundreds of books and thousands of short-story style reading comprehension challenges for users to choose from, and comes in website format or a mobile app.
This is an excellent online resource for teachers or parents hoping to help improve Spanish-speaking students reading comprehension abilities. Teachers are able to observe their student's progress and have access to individualized reports. Beereaders also discovers areas of difficulty that may need more support, notifying teachers so they can assist students as needed. Beereaders makes reading exciting through a game-like reading experience, and can be used for in-person learning or remote learning from home.
Buy this product at:
As an Amazon Associate we earn from qualifying purchases.