Academics' Choice Award™ Winner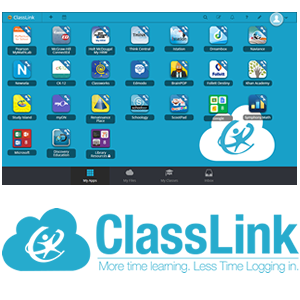 ClassLink
Ages: 5 and up
Price: varies
Type: Website, App, Software
By
ClassLink
Description
ClassLink provides OneClick Single Sign-On enabling access to web, Windows, and Google applications at school and in the cloud. Accessible from any computer, tablet or smartphone, ClassLink is ideal for 1to1 and Bring Your Own Device (BYOD) initiatives.

Schools have the ability to choose between using QuickCard (similar to an ID card), Facial Recognition (works on any device with a camera), and Remote Logins (mobile app) to get students logged in to ClassLink quickly and learning.

ClassLink's primary benefit is instant login to any web app through our OneClick technology. Students and teachers use of digital learning resources expands every day across many different devices. The number of usernames and passwords is costing valuable time and resources. ClassLink ensures students and teachers have instant access to the digital learning resources they need to improve learning outcomes.
Review Highlights:
ClassLink helps teachers and students jump into learning by removing the time-wasting, tedious login process to programs and files from various devices. No more calling the IT guy needed. ClassLink solves a simple but very real problem of getting students quickly up and running in today's bring your own device (BYOD) classrooms. The software allows for single sign-on to all your classroom apps, files on your school network, manages class rostering, and who can access what. Plus, it's all in the cloud so you can access the portal from anywhere, anytime.
Spend less time accessing resources and more time teaching and learning with ClassLink. Although ClassLink does not specifically develop cognitive skills, it certainly simplifies the lives of teachers and students and makes the process of learning and teaching via digital devices a much better experience. I highly recommend it.
Buy this product at: