Academics' Choice Award™ Winner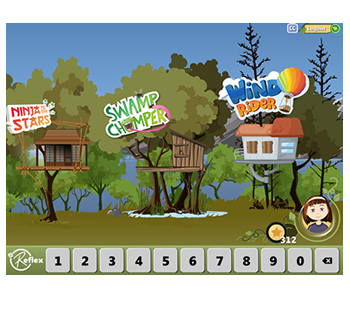 ExploreLearning Reflex
Ages: 6 - 12
Price: $35/per seat (per site sales)
Type: Website, Software, App
By
ExploreLearning
Description
ExploreLearning Reflex is the most effective solution available to help students develop fluency with basic math facts (addition, subtraction, multiplication and division). Reflex is:

-- Adaptive and individualized. Reflex continuously monitors each studentís performance to create the optimal experience for every child.

-- Easy to use for teachers. Reflex includes intuitive and powerful reporting. Educators have everything they need to easily monitor and support student progress.

-- Fun! Reflex is game-based to keep students coming back for more.

-- Effective. Across multiple grade levels and assessments, students who use Reflex are scoring higher and growing faster than their peers.


Review Highlights:
The culturally sensitive avatar was a nice touch. The incentive-based motivation approach (through the use of points and a store to upgrade and outfit your avatar) was well received by my students. Setting up a class and assignments was a snap. The best part were the actual games and multilingual delivery though. You can choose the language of your student! I choose Spanish and the little crab spoke Spanish introducing me to the various games to play in the fair and island. A variety of interactive, fast-paced games (Wind Rider, Ninja to the Stars, Quick Slither, FIzz Heads, Blok Bot, and more) with a plethora of fun characters provided an initial fluency assessment for my students and sufficient practice to master the basic math skills. The games offered plenty of practice to master each math fact and often provided the right answer when incorrect, and/or required the user to try again when incorrect--ensuring a positive experience and success in every game.
An an incredibly fun way to practice and master addition, subtraction, division, and multiplication. Some of the games such as Wind Rider even involved strategic thinking, which made the rote memorization process a lot more fun and educational.
The teacher reports are great. They show Starting Fluency for each student, Fluency Gain, Gain per Week, how many days per week the student is using program, and the number of math facts learned. The program even alerts the teacher when student progress is a little slow.
As an elementary school teacher I sincerely believe that kids learn best through play. ExploreLearning Reflex exemplifies that experience. My students loved all the games. I loved that they were learning and practicing essential math skills in an engaging way, without any fuss.
Buy this product at: