Academics' Choice Award™ Winner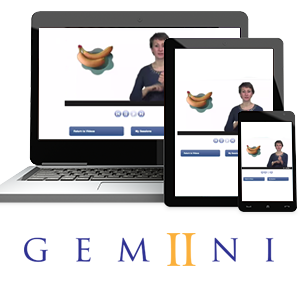 Gemiini
Ages: All Ages
Price: $98.00/month
Type: Website, App, Software, Audio, Video
By
Gemiini Systems, Inc.
Description
A web-based program clinically proven to increase language, reading and social skills for people with Autism, Down Syndrome, Stroke and others.




Review Highlights:
Geminni offers an innovative form of video modeling therapy to help children with special needs and stroke survivors. I was impressed by the sheer amount of video content offered. They break down the video content into five main categories: Spoken Language (action words, articulation, conversational, descriptive words, people, places, things, etc.); Reading, Writing & Academic (grammar, geography, numbers & math, reading, spelling, time/calendar, etc.); Skills (behavioral, eating habits, hygiene, inferences, life skills, money, social skills, etc.); Humor & Motivational (high interest stories, humor, praise); and Verbal Behavior (visual/spatial, receptive language tracing, imitation, labeling, requesting, etc.). You can even filter by Age, Actor modeling, and Developmental Stage. The fact that you can choose the actor modeling is fantastic as peer-modeling is often more effective than demonstrations by adults. The program is a bit expensive for parents, but well worth the price in my opinion. I love that the company recognizes this and offers scholarships for reduced tuition to families in need who qualify.
Speech language pathologists, special needs educators, and parents will love this web-based solution! Tailor the video curriculum with ease for each student and easily track and share progress. The site offers over 60,000 short, focused videos that model mouth movement, related sounds, words, and images (and explanatory narration) to help children with special needs and stroke survivors gain or regain essential life skills (language, reading, math, social skills, etc.). The video modeling approach produces results (with repetition). It works arguably better than face-to-face modeling by an instructor. The passive approach really seems to work well with students on the spectrum, especially those with social anxiety. Gemiini offers the most modeling videos I've ever seen in one place, all conveniently categorized and searchable. The videos are high quality; you can tell they were created by people who care deeply about the success of each student.
Buy this product at:
As an Amazon Associate we earn from qualifying purchases.