Academics' Choice Award™ Winner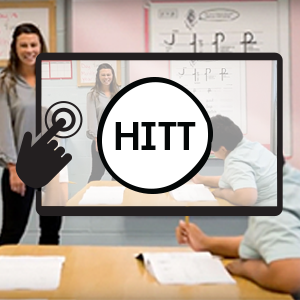 HITT: The Handwriting Interactive Teaching Tool™
Ages: 5 - 11
Price: $225.00 (HITT can be purchased for $25 when ordered with a classroom set of workbooks)
Type: Website, Software, Book
By
Learning Without Tears
Description
HITT: The Handwriting Interactive Teaching Tool™ is a comprehensive, digital teaching platform for handwriting instruction that works alongside the 2018 editions of the Handwriting Without Tears student workbooks. HITT offers many multi-media ways to teach a lesson with music, animations, and live teaching videos at your fingertips. Educators can manage all their handwriting lesson plans while reducing prep time with ready-to-teach lessons. HITT is flexible and can adjust its ready-made presentations to fit unique classroom needs while engaging different learning styles. It's also easy for the educator to teach handwriting with little to no prep required.

HITT is compatible with any interactive whiteboard or projector to support classroom/group instruction and includes:

• Interactive digital workbook and teacher's guide
• Multimedia options for teaching each lesson such as digital letter and number formations, award-winning video animations, music, and instructional, teacher-led videos
• Access to fun cross-curricular connections, supplemental lessons, and downloads
• Dynamic teaching guidelines and customizable lesson plans


Review Highlights:
The activities were engaging and offered multiple attempts with different animations and sounds. The use of "the magic c" for cursive repetition and the fun use of "helicopter" and "bump" like bumper cars are very accessible for students. The integrative resources to approach different topics through the teachers guide and the cross referencing of the resource feature were also very helpful. Some online use is difficult due to use of a mouse like a pencil, which may not be directly transferable offline, but overall it definitely helped improve fine motor control and development of letter and number formation.
This whole writing series is a very comprehensive program for multiple ages. It allows implementation totally structured or DIY as a teacher may see fit for his or her own student community. It's a great resource for homeschooling or additional practice after school or in a tutoring program. My 4th grader was very engaged with the product and I saw an improvement in his handwriting as letter sizing and spacing became more consistent.
Buy this product at:
As an Amazon Associate we earn from qualifying purchases.