Academics' Choice Award™ Winner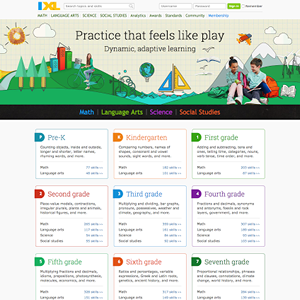 IXL
Ages: 5 - 18
Price: $9.95/mo. and $249/yr for 1 teacher and 25 students
Type: Website, Software, App
By
IXL Learning
Description
IXL delivers an adaptive learning experience for all students in all grades, in math, English language arts, science, and social studies. With 1 in 9 students already using it in the U.S., IXL's content and technology enable engaging, personalized experiences that spark curiosity and build confidence.

IXL's team of teachers, researchers, and technologists crafts high-quality content with unprecedented breadth and depth across 6,000 skills. IXL adapts with students as they grow, introducing new concepts at the perfect time, in the right order and at the right difficulty level for each individual student. Additionally, questions are algorithmically generated, ensuring that students never see the same question twice and always have something new to practice. IXL's SmartScore provides an accurate measurement of student understanding, accounting for more variables than simply the percentage of correct answers--it takes into account the number of problems completed, the number of problems correct and incorrect, problem difficulty, and the consistency of correct answers in a row. When they reach a SmartScore of 90 or better, students, parents and teachers can be sure the material is truly understood.

IXL features interactive question types that heighten curiosity and put learning at children's fingertips. With math, English language arts, science and social studies, learners are inspired to discover the joy of learning with everything from learning to count by placing stickers on colorful backgrounds to recognizing common grammatical mistakes in real world street signs. Each grade level features whimsical awards to collect, each with a different theme, such as a jungle adventure, the Wild West and even balloon animals. With more than 1,000 awards to discover and win, learners never run out of surprises. Students (and their parents and teachers) can also celebrate accomplishments with IXL's weekly email updates and printable certificates honoring noteworthy achievement.

And, with IXL Analytics, parents stay in the loop on their kids' practice, and teachers get actionable data that makes it a breeze to track student progress, pinpoint trouble spots, and more. IXL's nine reports are more than just numbers, offering real-time insights that let teachers know when students need help and how they can help. Intuitive and visual, IXL Analytics brings relevant data into focus so teachers can concentrate on what they do best: teach. From subjects, to activities, and grades, IXL is the most comprehensive classroom product that makes learning fun and engaging for kids of all ages.

IXL is available online and as an app for iPads, Android tablets, and Kindle Fire.


Review Highlights:
While IXL began as a program to improve math skills, it has expanded to provide practice in language arts, science, and social studies. Math and language arts are covered through the twelfth grade level, while science and social studies only provide lessons through the eighth grade level so far. Over 100 skills per curriculum area (math, science, etc.) area per grade are provided. Skills are aligned to Common Core and state standards. Within each skill, students answer questions until they demonstrate mastery. A membership to IXL provides an enormous amount of practice material per grade level. The site is bright and colorful and immediate feedback is provided for each question attempted. IXL works better for practice of material that has been already covered, especially in math, but explanations are given for missed answers, so that the student can learn from his mistakes.Students can be motivated by seeing their "SmartScore" increase with each correctly answered question.The parent portal has analytics of the student's performance, so parents can see at a glance skills mastered, time spent practicing, and number of questions answered correctly or incorrectly. Overall, IXL is a useful supplement to any curriculum.
These questions closely model the way questions are asked in modern, computer based state assessments. They cover a wide variety of skills and topics. Grades Pre-K through 1st have an option of clicking a button to have both questions and answers read to them.
iXL offers lots of practice without cognitive overload. It's "drill without the kill." It offers just enough questions to gain subject mastery with the SmartScore adaptive scoring system. The adaptive aspect makes it so students are encouraged to think and not guess. As a result, when students get an answer wrong, they actually read the explanation because they want to earn 100 points. The questions required reflective thinking and deductive reasoning skills and adjust in format every now and then to keep students on their toes.
The IXL learning program is so comprehensive in the areas of math and language arts. I feel like if my child can go through all the lessons, he'll have everything down that he needs to know for his current grade level.
Your child can explore thousands of math problems hosted on the IXL website. Parents can check in at any time to look at how well their child is doing in any given skill. The program is aligned with the Common Core so this is a great supplemental resource for children in the public system. My son really enjoys IXL. After showing him how to login, I just let him go for a few hours. He bounced around from different skills to different grade levels. The program tracked his abilities and challenged him as he became more proficient at each particular skill. I like the meticulous line up of skills and standards covered in this program. It is almost overwhelming.
IXL has a been a fabulous addition to my child's math program. This program has an extensive list of skills my boy can work on. He is able to jump back and forth from addition, to data and graphs, to counting and number patterns and so on. He's not the type that can do 10 problems of the same nature in a row so it is great thet he can just bounce around and explore different kinds of math. I like the ability to check on what my child has mastered, how long he spends on each problem, and how many he gets right or wrong.
iXL is a great tool for practicing and reinforcing Math and Language Arts skills (aligned to Common Core and other State Standards). It's not a complete curriculum but it's very close. It can supplement any math curriculum as it's easy to identity areas for improvement or assign a specific skill to study. The adaptive scoring system ensures students move at their own pace, at the right level of difficulty, and leads them to concept mastery. The interface is simple to use. The questions are visually appealing, provide instant feedback and the detailed explanations for incorrect answers make the program a great instructional tool as well. The awards and printable certificates are great motivators. The altering approach to positive feedback (e.g., Well Done!, Brilliant!, etc.) makes the program feel like a teacher is genuinely cheering you on.
As a teacher I loved that I could see who mastered what skill and who needs more improvement, how much time they have worked on each skill, and how many questions (and what questions) they answered correctly and incorrectly. It saves a ton of time and allows me to provide individualized instruction, and/or quickly realize I need to differentiate instruction.
Some areas of study such as basic math facts require memorization and IXL excels at reinforcing and often teaching these skills to a point of mastery while developing student confidence.
Buy this product at: