Academics' Choice Award™ Winner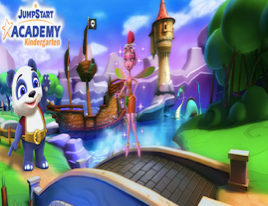 JumpStart Academy Home
Ages: 3 - 6
Price: $9.99 for a 1 month subscription (a 3 month subscription is $24.99)
Type: Website, Game, Software
By
JumpStart
Description
Jumpstart Academy Preschool and JumpStart Academy Kindergarten provide early learners with a personalized educational experience to enhance their academic careers at home and on the go. Created by a brand that is trusted by millions of parents for over twenty-five years, JumpStart Academy Preschool and Kindergarten empowers parents to guide their children's educational experiences before they enter a formal academic setting and helps ease the transition to school with today's technology. Young learners will travel through various themed lands as they progress and learn about subjects that target their personal interests and learning styles. With engaging games created specifically for early learners by elementary curriculum experts, JumpStart Academy combines guided content, adorable JumpStart characters and an endless variety of play-to-learn educational activities that provide a learning edge in reading, writing, math, science, and social science that build the essential skills for 3 to 6 year olds with foundation of Common Core State Standards and Next Generation Science Standards in mind.

While many preschool and early learning apps on the market cater to reading and math, JumpStart Academy products have refined the art of engaging children while they learn. With games available on all devices, young children can play and learn whenever and wherever they are. JumpStart Preschool and Kindergarten offers countless opportunities for children to personalize their experience so they stay engaged with the content and master new lessons every time they play. Parents can easily monitor how their child is progressing throughout the game in the parent's portal and can assist with any gaps in their understanding to keep their children on track. JumpStart Academy Preschool and Kindergarten fosters an environment for young children that is safe, features great content, and provides tools that are simple and fun to use so learning becomes a breeze.


Review Highlights:
Using Jumpstart for the classroom is a dream! There is literally everything a PreK-5 teacher needs to teach. It is almost overwhelming how much content is on this website. Under the teacher tab alone I found full curriculum plans for each grade. Science, Math, Reading, you name it! I found excellent supplementary worksheets for every grade, holiday activities, interactive games, educational videos, and apps. My boy decided to look at the games a bit more than I did, but he was happy doing a couple of math worksheets with me. A great resource for teachers and homeschoolers!
We had a great time with JumpStart Kindergarten! My little girl loved the characters! We were first introduced to all of the cartoon characters, worked on our avatar, then worked on letters and letter sounds of her name. We then went into a book with the martian. This website let my child explore the many topics she'll need to be doing next year in kindergarten. We sat in front of the screen for more than an hour and barely even scratched the surface. My husband and I want to use it for after school homework time next year.
Buy this product at:
iTunes Apple Store (Preschool)
iTunes Apple Store (Kindergarten)
Google Play Store (Kindergarten)
As an Amazon Associate we earn from qualifying purchases.