Academics' Choice Award™ Winner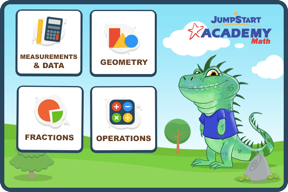 JumpStart Academy Math
Ages: 5 - 11
Price: Pricing ranges from $25-35 per student. Discounts are given on a site wide purchase. In person PD (Professional Development) starts at $1500 for half day, $2000 for Full day. Virtual PD is $250 per hour
Type: Website, Game, Software
By
JumpStart
Description
JumpStart Academy Math helps students to learn the common core standards through teacher assigned lessons, along with independently progressing through a series of practice levels across four game maps. JumpStart Academy Math covers the complete K-5 Common Core Math mastery for English & Spanish speaking learners. Students have the chance to work together through exciting team-based multi-player game features, including over 300 lessons in Geometry, Fractions, Operations, and Measurements & Data. The program also includes four pre-test assessments to place students in the curriculum level based on their individual proficiency.


Review Highlights:
JumpStart Math Academy has it all: Common Core Math, student reports, changeable avatars, personalized learning, and most importantly, student engagement. I enjoyed reviewing this website as it was just full of endless possibilities for my students, curriculum and lesson plans. I could see using this to supplement my math program or simply for the kids who finish in-class assignments early. I know my students would enjoy math more if they had JumpStart Math Academy!
Buy this product at:
As an Amazon Associate we earn from qualifying purchases.