Academics' Choice Award™ Winner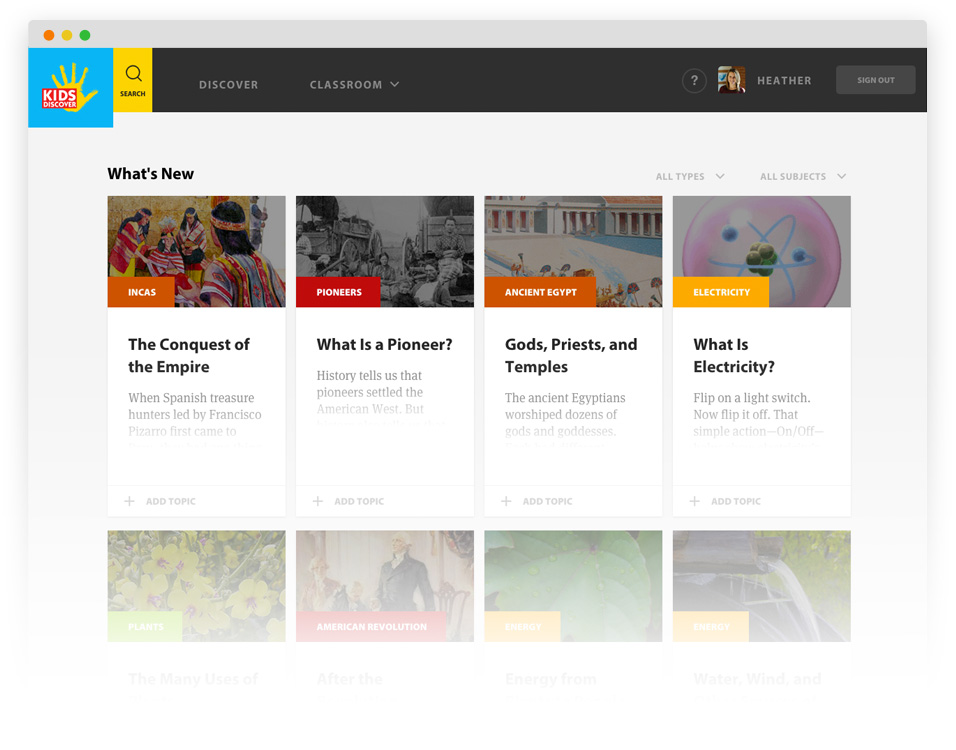 Kids Discover Online
Ages: 8 - 14
Price: Multiple Subscription Tiers Available
Type: Website, Video, Book, Software
By
Kids Discover, LLC
Description
Kids Discover Online is a web-based application that works on any device. Educators, parents and students can login with an authenticated username and password, to access a growing library of over 2,000 engaging Science, Social Studies, and Nonfiction articles.

Over 95% of the articles are written at 3 Lexile Reading Levels, geared towards grades 3-8. Articles are written and designed in a visually rich layout and include interactive modules, scrollable animations, and short-form video that brings subjects to life. The library is organized into 10 key subject areas, including American History, World History, Earth Science, and Physical Science. Popular Units include How America Works, Ancient Egypt, Ecology, and Matter.

Kids Discover Online offers a Search by Standards feature for Educators and Parents to identify standards-aligned content for lesson integration. Articles can be saved/added to an Educator's virtual Classroom, where students can then visit for the day's lesson. Students can also access Kids Discover Online independently for homework help and student-led research.

Kids Discover Online also offers a customizable Assessments tool, which includes over 5,000 pre-made multiple choice, true/false, short answer, and essay questions. Educators can create custom assessments (quizzes, tests, homework assignments) using our bank of pre-made questions, or by adding their own custom questions. Assessments can be administered online and offline, and results are automatically graded and logged within a dashboard called Gradebook.

Other features include read-aloud functionality, built-in translations for up to 6 languages (including Spanish), Single Sign-on with Google and Clever, and compatibility with Google Classroom.


Review Highlights:
This product covers thousands of topics in the realm of social studies and science. It emphasizes learning through reading and comprehension (assessments).
The kids and I loved going through all the learning opportunities available through Kids Discover! We started in the Discover tab and just said, "Okay, what do you want to learn about!" It was great to have the kids just explore topics on their own and to see where their interests led them. The discover tabs offered a lot of options in the sciences (technology, space, life science, anatomy, etc.) and social studies (historical figures, geography, etc.). Clicking on one of these topics leads you to a web of related topics. The web was a great illustration of how a brainstorming web is used in practical application. From the web, my kids were able to see how different topics related to each other. For example, my son wanted to learn about a historical figure and ended up exploring Sacagawea. In clicking on her tab, he was also brought to information related to Thomas Jefferson, the pioneers, and Plain Indians (in addition to the information on Lewis and Clark).
In addition to free exploration, teachers and parents also have the option to set up programs of study to assign to students. Teachers have the option of creating a class and assigning students to each class. Assessments can also be easily made based off of which topics are assigned. Kids Discover offers a wide array of pre-made questions covering science and social studies topics. Questions come in a variety of forms including short answer, multiple choice, and true and false. However, if you don't see the question that you want, Kids Discover offers a feature that will enable you to create a personalized question bank. Kids Discover will give you feedback on the number of correct/incorrect answers that were used. You can assign multiple students to a classroom and there is a built in gradebook. My youngest, a nine year old, is currently completing a zoology class. We looked up to see if there were any topics related to what she has been studying. We searched for "turtles" and came up with one unit (climate change) and four topics (endangered species, oceans, and shelter (two from this topic)). These were really easy to load into the classroom as areas to be studied.
What I love most about Kids Discover is that most topics come in three reading levels. As a homeschooling mom, I am teaching three kids working at three different grade levels. Although we may be covering a lot of the same information, the expectation for each child is different. Kids Discover gives me the opportunity to teach on the same topic but to present the information at various reading levels to suit the needs of each of my children. The other thing that I love is that some of the units come with additional educational activities (e.g. crossword puzzles, matching, word find, vocabulary). These are a lot of fun to print off and have the kids complete (and they come with answer keys so I don't necessarily have to do them as well!). For teachers (or parents interested in knowing), you can also search the educational standards by state, grade level, and topic. Kids Discover has conveniently listed which topics cover the educational standard that is required for each state.
Not to be overlooked is that Kids Discover will also read the text for you. This is great for kids who struggle with the reading. Kids Discover will also translate text for you (with a ton of different language options)! Furthermore, Kids Discover will read the translated text. I actually used Kids Discover as part of our German curriculum. All three of my children were able to listen to a topic of their choice in the German language!
This site is a helpful edition to any classroom, homeschool, or home that wants to encourage curiosity. The online system is visually appealing and colorful. It's easy to add students, assign work, and prepare assessments. Multiple lexile levels are available, and each unit includes a vocabulary packet and teacher's guide. Read-aloud is available for those who need extra help. There are over 175 units and 1,500 topics (there are multiple topics per unit). The units cover a huge range of science, history, technology and social studies concepts. Each unit has a Teacher Guide and a Power Vocabulary Guide available. The teacher guide includes an overview, pre-reading activities, discussion questions, multiple choice and short answer assessments, and cross-curricular activities. The vocabulary guide includes word cards, fill in sentences and puzzles for 15 words selected from the text. Subscriptions are available for a single user, a homeschool (5 users), classroom (34 users), or district. I've looked at a lot of different online systems that cover science and history topics, and I'd consider this the best I've seen - both for the engaging content, and the ease of managing student work. Recommend!
I love the wide variety of topics that are presented. Students are able to visit topics assigned by a teacher, and even take quizzes on those topics. They are also able to freely explore their interests. The "Discover Map" feature allows students to see how topics are interrelated and to jump from one topic to another as their interest leads.
Buy this product at:
As an Amazon Associate we earn from qualifying purchases.