Academics' Choice Award™ Winner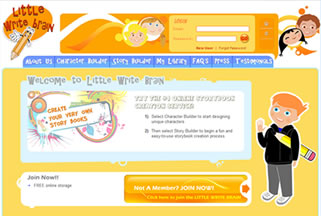 LittleWriteBrain.com
Ages: 3 and up
Price: Free
Type: Website
By
Little Write Brain
Description
Fun and exciting online book creation tools help instill a passion for reading, writing and storytelling in children. Little Write Brain offers the most personalized storybooks in the industry. All of the stories – the characters, the plot lines, and the illustrations – can be created and modified by children and their parents through their fun and easy-to-use proprietary online tools. The unique product enables every child to have the opportunity not only to star in his or her own storybook series, but also author and illustrate them.

Review Highlights:
My little novelist is more inspired than ever! The level of character customization is amazing, ...highly engaging, and the plot-helpers are excellent.
As an aspiring writer and parent, I was thrilled to review this website. My ten-year-old has created quite a story, all on his own... It's impressive to see him channel his imagination. I can already see him critiquing my writing.
I love that you can print a real book when you're done.
I'm a retired elementary teacher, when I saw Little Write Brain, I instantly envisioned a computer lab full of children 'building' their stories, all online! I felt the urge to teach again. The applications of this tool are endless, enrichment for gifted students, illustrated book reports, visual arts, year-end review through story-telling...great fun with purpose!
Try this product at:
As an Amazon Associate we earn from qualifying purchases.