Academics' Choice Award™ Winner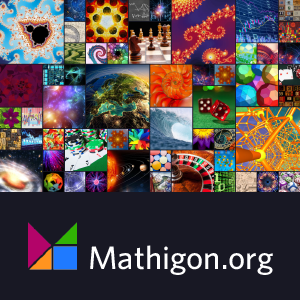 Mathigon
Ages: 12 - 18
Price: Free
Type: Website, Software
By
Mathigon
Description
Mathigon is an award-winning mathematics education platform that is available online at https://mathigon.org and completely free. Using cutting-edge technology and an innovative new curriculum, Mathigon wants to make learning mathematics more engaging and personalised.

Rather than just memorising how to solve exam questions, students can independently explore and discover new concepts. A virtual personal tutor guides students step-by-step and proactively gives help. All content is fully interactive and, at every step, students have to solve puzzles or answer questions to proceed.

The curriculum includes many new topics that focus on applications of mathematics. Every chapter puts the abstract mathematics in an interesting context, using stories, puzzles or real life applications — making it more fun and more memorable.
Review Highlights:
Mathigon is a treasure chest full of advanced math concepts presented in many different ways for the user. I really liked the interactive book that suggested an interdisciplinary element to teaching math. Usually, if you are teaching thematically or in an interdisciplinary manner, math is one of the toughest to connect, but I quickly found ideas for the math curriculum this year! In particular, when introducing PI, I can now have my Humanities teacher touch on Ptolemy. The same goes for Pythagoras and his ancient theorem.
This website is a wonderful addition to any math curriculum, but it is geared heavily toward the highly academic. There is no gamification here - just facts and methods.
Buy this product at:
As an Amazon Associate we earn from qualifying purchases.