Academics' Choice Award™ Winner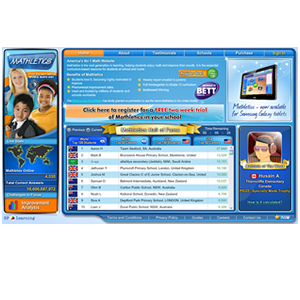 Mathletics
Ages: 5 and up
Price: $12 per student for schools. Private individuals $59
Type: Website, Software, App (Android)
By
3P Learning
Description
Mathletics is a global community of 4 million students in over 17,000 schools and homes around the world. Targeted and adaptive practice activities with step by step instructional support, eBooks, interactives and video tutorials form the basis of dozens of Mathletics courses – each aligned to the individual requirements of national and state-based curriculum aligned to state and national standards. In addition, the famous Live Mathletics area matches students against others from around the world in real-time arithmetic races, powering towards mathematical fluency. Mathletics builds to an engaging environment that encourages students and rewards results.

For a quick summary of new upgrades and features visit: http://www.3plearning.com/mathletics/new/

Mathletics is proven to switch students onto math in school and beyond the school day. Online fun and engaging K-12 math website. Used by students and teachers and also has a dedicated parent website. For private subscriptions the parent site works similar to the teacher center. For school subscriptions we also provide access to free parent center (www.mathletics.com/parent) where parents can receive weekly feedback about their child's progress on Mathletics.

For Students
1. Engage them with:
* Real-time multiplayer gaming to improve math fluency against students from their class, their school and from around the world.
* Dedicated & customizable Student Console.
* 24/7 access & iPad App for anytime, anywhere access.
* Adaptive curriculum activities with step-by-step animated support for every concept.

2. Individualized learning pathway with:
* Adaptive K-12 curriculum activities aligned to CCSS.
* Customizable courses with a something easy, something harder.

3. Improved & Blended Teaching Instruction with:
* Formative assessment reporting with easy assignment of activities with the click of the mouse.
* eBooks with embedded kinetistic interactives for middle and high school students.
* Customizable courses and lesson creator tools.


Review Highlights:
Mathletics was obviously designed by educators interested in thoroughly tracking their students progress. After children plug in and work, an administrator can immediately gather data on the students knowledge in a particular skill set. The new updates in assessment, content and reports further benefit the educator as well. Al though I like these elements about Mathletics, what I really like is how the new "flipped" classroom theory is addressed. Mathletics Conceptuals have introduced fantastic short videos used to open up or support a specific topic in the classroom or even at home. I really like the illustrations and information in the ratio video. The 'cartoonesque" writing works well for the eye to follow while the voice is offering pertinent information about the topic at hand. This is a very useful tool for teaching math.
The ability to compete internationally against peers and compare performance is a brilliant feature!
The adaptive curriculum motivates students with an effective reward system and provides plenty of practice to master concepts. The help option offers step-by-step instructions how to solve a problem, which was particulary helpful for my students. It is an excellent supplmental curriculum.
Buy this product at: