Academics' Choice Award™ Winner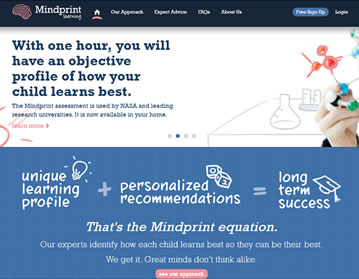 Mindprint
Ages: 8 - 21
Price: $199
Type: Website, Software, Assessment
By
Mindprint Learning
Description
Mindprint Learningís new platform provides a crucial, research-based enhancement to existing personalized learning solutions. It targets how children learn instead of just what they know by analyzing the underlying skills required to process new and recall previously learned information. This type of cognitive data has never before been accessible for general education. A one hour, cloud-based assessment allows parents and educational professionals to identify the unique needs for each student and differentiate instruction methodology using a toolbox of 300+ learning strategies and 1,500+ supplementary learning resources. We enable educators to reap the benefits of the latest research on early intervention, metacognition, and neuroscience to help all students learn more successfully.

Mindprint provides an objective evaluation of each studentís learning strengths and needs across 10 core skills, including processing speed, executive functions, attention, reasoning, and memory. Additional measueres for cocial cognition, auditory processing, and dyslexia are in development. Our Toolbox makes assessment results more relevant to instruction, providing data-driven action plans specific to each student. All children, even the brightest, have strengths, needs and struggles. Mindprint targets the 90% of children in the general student population that currently do not benefit from this insight, curating content to better map to studentsí interests, strengths and needs.

For Children Ages 8 to 21

Cognitive assessments like Mindprint measure the abilities and processes required for learning, whereas standardized school tests measure what has been learned. Experts consider cognitive assessments the only reliable and objective way to identify a childís unique combination of learning strengths and needs, the crucial insight needed to effectively understand and address learning struggles and areas of giftedness. Historically cognitive assessments were too time consuming, inconvenient and expensive to be administered to most children. Mindprint solves this problem with a one hour assessment that can be taken anywhere, whether at school or home, at a fraction of the typical cost of alternatives.

Following the assessment, Mindprint provides a Unique Learning Profile detailing a childís strengths and needs. Information revealed in the Unique Learning Profile is the starting point for progress and is accompanied with a personalized Toolbox for each student. The personalized Toolbox includes actionable learning strategies customized to each studentís unique needs to help make learning more efficient. Our research-based learning strategies are written by child psychologists and learning specialists to strengthen and/or compensate for weaker cognitive skills. The techniques in these strategies have proven effectiveness either in the research literature or in practical classroom application.

For those that want extra practice with how to use these strategies and with school work, we recommend apps, workbooks and websites. Those recommendations, like our learning strategies, are specific to the child. All of the products have been evaluated using a proprietary rubric based on Universal Design for Learning (UDL) standards. Hence, Mindprintís reviews reflect the use of multi-modal delivery methods, undesirable difficulties, and potential of stress-inducing features such as timers and negative feedback. Overall, our reviews help teachers and parents select products with the best pedagogy while helping them avoid products that will be unnecessarily challenging based on cognitive needs identified in the Unique Learning Profile. Avoiding undesirable difficulties is shown in research to be critical to engaging and effective learning for all students. In total, Mindprintís team of teachers and specialists has created or reviewed over 1,500 learning strategies, educational toys, games and tools that help children tackle academic challenges more effectively.

Mindprintís assessment was developed by researchers at The University of Pennsylvaniaís Perelman School of Medicine. It has been validated and normed in over 10,000 children, published in the most respected academic peer-reviewed journals, cited in over 150 academic papers and used by major research institutions around the world. Mindprint assesses ten cognitive skills across four domains, including speed, executive functions, complex reasoning and memory. The assessment takes approximately one hour to administer and requires a computer with a keyboard and mouse and any Internet connection.

The cost for the assessment, a comprehensive written evaluation of the childís strength and needs, and a one year subscription to customized learning solutions is $199. A low-cost solution for K12 use in general education as a universal screener will be available in mid-2016.

Review Highlights:
Mindprint is an assessment of how your child thinks/learns best. There are 10 sub-sections of the assessment that help a parent/teacher/tutor understand their learner.
It is personalized to the individual based on the assessment. As a parent & teacher, I think Mindprint would be helpful to understanding my own children and their strengths. It would be amazing to have this for each of my classroom students at the beginning of the year in addition to their IEP, ELLP, ALP information.
Find this product at:
As an Amazon Associate we earn from qualifying purchases.