Academics' Choice Award™ Winner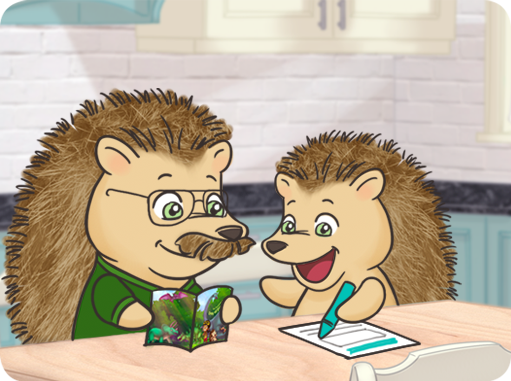 Peekapak Social Emotional Learning Curriculum for Class & Home
Ages: 4 - 13
Price: Free (limited access) / $96 per classroom per year
Type: Website, Software
By
Peekapak Inc.
Description
Peekapak is a Social-Emotional Learning (SEL) platform for pre-kindergarten to grade 8 that makes teaching important SEL concepts like gratitude, perseverance, empathy and teamwork fun, easy and engaging for students, teachers and families.

The power of storytelling in teaching young children is at the heart of Peekapak and their online platform is filled with original SEL-focused stories, a diverse and relatable cast of characters, and engaging lessons for the classroom and the home, making it exciting for students to learn and practice SEL topics.

Bite-sized lessons:
Peekapak is aligned to the English Language Arts standards and is broken out into bite-sized, easy-to-use lessons. Lessons are research-supported and include a wide mix of different teaching and learning styles, such as role-playing, discussion, making connections, group work, drawing, and movement activities.

Connection to parents:
Peekapak bridges the gap between the classroom and the home by enabling teachers to send updates to parents about what was taught in the classroom and to share the terms used to teach SEL concepts. Parents are able to access the digital storybooks read in class (to re-read at home) and receive discussion questions and activities to do with their child. This makes it easy for parents to reinforce classroom learning in the home through fun materials and a common language.

Features:
10 units covering SEL topics: Self-Regulation, Respect, Gratitude, Kindness, Perseverance, Empathy, Teamwork, Honesty, Optimism and Courage
Original digital storybooks to make learning each topic relevant, engaging and fun for students (each available in 3 levels of comprehension)
80 classroom lesson plans containing step-by-step instructions and printable templates for classroom activities and discussions
80 pre-written class updates for teachers to send home
80 home extension discussion questions and activities for students to do at home with their family

The ability to track the English Language Arts Common Core Standards practiced by students, and the number of units and at-home activities completed
Printable posters and letters from Peekapak's characters, the Peekapak Pals, introducing each unit


Review Highlights:
This is a great choice for guidance counselors to use in their character development courses taught at the K-5 level. The skills learned were based on social-emotional health. Self-regulation, respect, kindness, gratitude and perseverance are areas that are taught to children.
I like that the product is accessible online, and easy to utilize.
The stories are original and students actually relate to them. We loved the flexibility of the platform too. It brings all stakeholders (children, parents, and teachers) together to enhance character building in an effective, responsible manner.
Listening skills were practiced throughout the lessons. Listening to the teacher read and then listening to fellow classmates and they expressed their opinions during the discussion questions.
Fast paced story lines, and a wide variety of characters keep the lesson moving so as to keep the attention of even the youngest class members. The different units cover a wide variety of social encounters the students are likely to experience. The illustrations are colorful and detailed to encourage engagement.
This program provides stories that help the children think ahead or "plan" for social encounters they will face during their school years and in situations outside the classroom where perhaps there is not so much social support or structure.
Buy this product at:
As an Amazon Associate we earn from qualifying purchases.