Academics' Choice Award™ Winner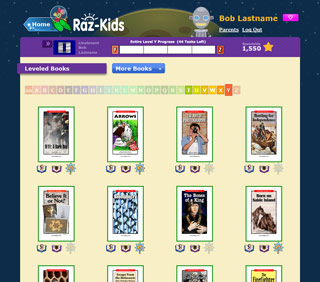 Raz-Kids
Ages: 4 - 10
Price: $99.95
Type: Website, App, Software, eBook
By
Learning A-Z
Description
Raz-Kids is a dynamic website where kids can listen to, read, and even record themselves reading literary and informational eBooks — anytime, anywhere! With Raz-Kids, students have access to hundreds of interactive, leveled books spanning 27 levels of difficulty, covering a wide range of subjects. In addition to engaging kids at their reading level and in their area of interest, this "built for students" website gives kids 24/7 access to the practice they need to become better, more confident readers. At the same time, teachers can customize assignments, view reports, and track student progress every step of the way.


Review Highlights:
Raz-Kids is a must have for any elementary school teacher. This online library of developmentally appropriate books that are written at 27 different reading levels lets the teacher move the student slowly through a natural progression which will eventually lead to fluency and comprehension. Fiction and non-fiction books are accessible by either teacher or student. Teachers are given tools to access reading level via tests and worksheets to better scaffold learning. A level correlation chart is also available for the teacher to better understand and record student abilities and progress. Students can be digitally assigned specific books to be read via internet. This is great for parents who are active in their child's education. Short videos are offered as well to help the teacher navigate the site for optimum usage.
As an elementary school teacher with an MA and 15+ years in education, I was completely blown away by the simple access I had to all of these essential elements in organizing a large class of readers. I have students in 3rd grade that read at second grade level and I have second graders reading at 4th grade level. This tool makes it so much easier to differentiate activities and assignments for my students. Raz-Kids is an amazing tool that helps teachers simplify and organize their young readers. Two big thumbs up!
Buy this product at:
As an Amazon Associate we earn from qualifying purchases.