Academics' Choice Award™ Winner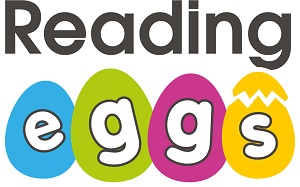 ReadingEggs.com
Ages: 3 - 13
Price: $79.95 for a 12 month subscription
Type: Website
By
Blake eLearning/ Pascal Press
Description
Reading Eggs is an online literacy resource for children aged 3-13 years old. There are 2 programs within Reading Eggs, Reading Eggs for 3-7 year olds and Reading Eggspress for 7-13 year olds.

Product design The Reading Eggs and Reading Eggspress programs each have their own unique worlds of interactive reading and writing activities. The programs have been developed by a highly experienced team of educational teachers, writers and developers who have created a highly visual, engaging and interactive environment which motivates children to return again and again. The visual aspect of the website immediately catches attention and once in each of the unique worlds there is so much to see and do children are stimulated and excited to work through the games.

At the end of each lesson in Reading Eggs a 'critter' hatches from a colourful egg and this is then stored in the child's 'My Stuff' section so they review all those they have collected while working through the program. In Reading Eggspress children are encouraged to collect trading cards and trophies. In addition to this children are given an avatar which marks their place in the particular world they are in. The avatar can be personalised by the child giving them a level of creative freedom.

This is all part of generating an environment which shows children that learning can be fun, in fact many children don't even realise that they are learning while they work through the program.

Product description: Learning to read is an important skill for all children, we wanted to make it an enjoyable experience for children too. Children love working and playing on the computer and the Reading Eggs and Reading Eggspress programs are all about bringing out the best in each child. These unique worlds of interactive reading and writing activities help to set children up with positive attitudes about reading and learning for life. That's a tall order, we know, but we are passionately committed to delivering this to readers everywhere.

Reading Eggs

Full of educationally sound, fun and interactive activities, Reading Eggs focuses on the most fundamental skill needed in school: reading. Children from 3 to 7 years of age or older children struggling with reading will enjoy the huge variety of reading lessons, activities and games that make up the Reading Eggs program. Reading Eggspress continues the reading adventure by taking children to a brand new world designed for 7 - 13 year olds focusing on comprehension and grammar. Reading Eggspress provides a unique learning environment where students can improve their English language and comprehension skills in a way that is exciting and relevant.

Both programs offer new registrations 2 weeks free access to trial the product first with their children to make sure it is suitable before they commit to purchasing. We understand that parents need to be confident and sure of the educational value of the resources they pick for their children.

Our aim at Reading Eggs is to provide a quality product for children with a great volume of content spanning reading, spelling and writing where they can learn in a safe and unique environment which motivates as well as develops children. Reading Eggs includes 120 literacy lessons that take a child from foundation stage through to the end of key stage 1.

In addition to the reading lessons in Reading Eggs there is Reading Eggs World which caters for children who already know the basics of reading but who still have much to learn about reading, writing, spelling, and comprehension. In Reading Eggs World, children have their own house to decorate, a big shop and an avatar that can walk and travel to many new destinations on Reggie's bus. Children are able to choose their own adventure from a wide range of activities and places to go, including the following content:

The Story Factory - this gives children an introduction to creative writing and they can put together stories to enter in a weekly story writing competition.

Driving Tests - has 15 sight word tests, 15 letters and sounds test and 15 content word tests. Children are rewarded for correct completion with a driving game.

Puzzle Park - children can access 32 word puzzles and practise sight word recognition.

Skills Bank - holds 96 spelling lessons that take students up to the end of key stage 1.

Storylands - this area builds reading, vocabulary and comprehension skills and is perfect for children who have begun to read but aren't quite ready for Reading Eggspress. It currently includes 20 e-books to read.

The Arcade - includes 24 arcade-style games to be used as rewards to motivate children to keep learning. They need to earn Golden Eggs to play these so encourages them to work through lessons and educational activities before using the arcade.

Reading Eggspress
The Reading Eggspress program uses a spinning island which instantly involves and engages children. They explore a complete world with a wide variety of both learning and fun experiences. The range of activities motivates students to return regularly to complete lessons, compete against others, earn more rewards and improve their skills.

The Reading Eggspress website has an enormous range of learning resources, lessons, motivational games and e-books. The books and lessons cover the Year 2 to Year 6 reading curriculum using an equal number of fiction and factual texts.

There are 4 areas of the Reading Eggspress world:
Library - the Reading Eggspress Library holds more than 1000 e-books including illustrated chapter books, full-colour nonfiction books and a range of classics. Children can search for books by topic, series, author, reading age or book title. New books will be added regularly.

The Comprehension Gym - children will complete a placement test when they first visit the Gym which places students at the correct level for their current ability. The Gym holds 200 interactive comprehension lessons over five broad levels from years 2 to years 6 with 40 lessons per year level.

The Stadium - compete in real time against students from around the world. The exciting head-to-head contest will test skills in one of four areas - spelling, vocabulary, usage and grammar.

Apartment and Mall - at the mall children can use their golden eggs to buy avatar clothes and apartment furniture. Within the apartment all of the trophies, medals and trading cards children have collected can be viewed and children can also complete a 100-level quest-style game to expand and refresh learning and earn more golden eggs.

Progress within the Reading Eggspress program is measured by the completion of targets. These are split over 4 levels and help to give children some guidance and structure for learning and encourage them to use all of the above areas.

Both the Reading Eggs and Reading Eggspress programs have a comprehensive reporting system that tracks progress so that students and their parents can clearly see each child's achievements.

There are currently over 2 million children using the Reading Eggs program across the world and over 90% of parents surveyed have reported a noticeable improvement in their child's reading skills.

Reading Eggs is a program that really works by making learning a fun, interactive and enjoyable experience for all involved.
Review Highlights:
My daughter and I tried out Reading Eggs together. Since she is already learning to read, we took the placement test to see where she should start. The activities were a nice mix of reading and creating words. My daughter stayed engaged for a long time with the lessons because she wanted to find out what the next activity was like, so the mix of different activities were very motivating. The game-like environment allowed you to collect rewards for each completed lesson and use them to buy virtual goods and go to other virtual activities like a video arcade.

A parent section allows you to see your child's progress and print out activities that reinforce the same skills on paper using the same images and similar tasks. My daughter described the characters as "weird" but she had a lot of fun inventing her own combination of arms, legs, etc. to create her own avatar.

Overall, I feel that reading eggs provides solid phonics and sight word instruction, although it would need to be filled in with other kinds of reading instruction to really promote comprehension and enjoyment of reading. For children who are motivated by external rewards, I think it would be an excellent way to start learning to read.
Buy this product at: