Academics' Choice Award™ Winner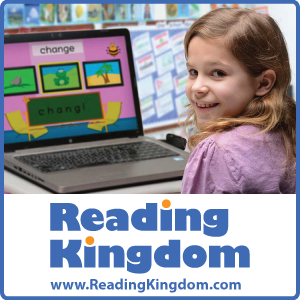 Reading Kingdom
Ages: 4 - 10
Price: $19.99/mo.
Type: Website, Software
By
Mojo Learning Inc.
Description
The Reading Kingdom is a fun, easy-to-use online program that teaches children 4-10 years old how to read and write to a third grade level. It is the only program available that uses the groundbreaking Six Skill Integrated Method developed by internationally recognized developmental psychologist, Dr. Marion Blank.

Review Highlights:
This is a great site for practicing literacy skills!
I like that each child has a test to place them at their level. They don't have to start where everyone else starts, but can start where they need extra practice.
I love that Reading Kingdom is adaptive and common-core aligned. The adaptive aspect ensures students are working at their level and continually progressing, and the fact that it's aligned to common core standards makes my job a lot easier. The product develops evaluation, reading comprehension, analysis, problem solving and decision making skills, and uses pleasing shapes and colors. My students were highly engaged. Reading Kingdom teaches six skills: Sequencing, Motor Skills, Sounds, Meaning, Grammar, and Comprehension. In addition to the adaptive aspect there is also a progress check at each level to ensure mastery before the student can move to the next book. The teacher reports quickly and easily show progress of each student.
Find this product at:
As an Amazon Associate we earn from qualifying purchases.