Academics' Choice Award™ Winner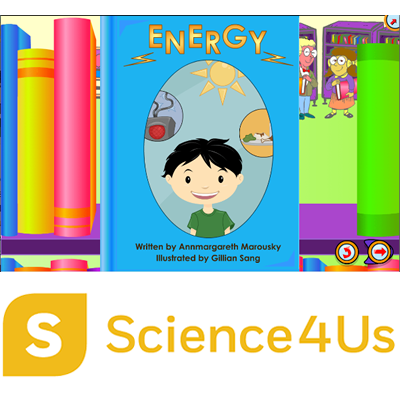 Science4Us
Ages: 5 - 9
Price: Varies
Type: Website, Software, App
By
ExploreLearning
Description
It's never too early to learn science!

K-2 science education matters.
Science4Us is a research-based program specially designed for K-2 students and includes 1000's of online and offline activities. With Science4Us, kids get hands-on with science. They explore science topics—and have fun—as they dig deeper with the 5E model.

Prepares students for success in science
Science4Us covers topics in physical, life, and earth science using animated lessons, activities, songs, and worksheets to engage and teach kids.

Incorporates literacy skills
Full of interactive activities and exercises, Science4Us introduces kids to science vocabulary, sight words, and much more.

Science4Us is easy to implement. The program provides comprehensive lesson plans, and embedded professional development so teachers can confidently and effectively teach science in their classroom. With flexible delivery methods, Science4Us has hundreds of short lessons for use with whole group, small group or 1:1.

"My students need to start science early to prepare for later grades. Science4Us gives them that foundation for science that they need. It's also an avenue for critical thinking and problem-solving, skills they can apply across all domains."


Review Highlights:
I greatly appreciated the interdisciplinary possibilities introduced. This is so important for kids to not compartmentalize knowledge. Science4Us is a great platform to connect with other subjects. Methods and approaches aside, Science4us has all the content any science teacher could ever want and assessments to measure the student's learning. If you are looking for a new online science program that is interactive, comprehensive, but also offers thousands of offline resources, check out Science4us!
Science4Us is a K-2 comprehensive, standards based Science platform online. It has hundreds of hands-on and virtual activities from which to choose. The clear, organized and colorful platform is relatively easy to use and get started. Teachers can download information on how to teach specific lessons. In fact, there is a Quick Lesson for teachers to review before they teach the lesson or a scripted detailed lesson plan for those less experienced teachers. The sound instructional model is based on Engage, Explore, Explain, Elaborate, and Evaluate. I enjoyed watching the pedagogical videos titled Explore and Explain. I truly enjoyed the fact that the woman emphasized exploration and discovery first. "The teacher should be a facilitator, a guide, during exploration time." So many teachers get in the way sometimes with their agenda, and they forget about the child's experience. Thank you for mentioning that! The professional development aspect of this product is fantastic! Science4Us definitely earns two thumbs up!
Buy this product at:
As an Amazon Associate we earn from qualifying purchases.