Academics' Choice Award™ Winner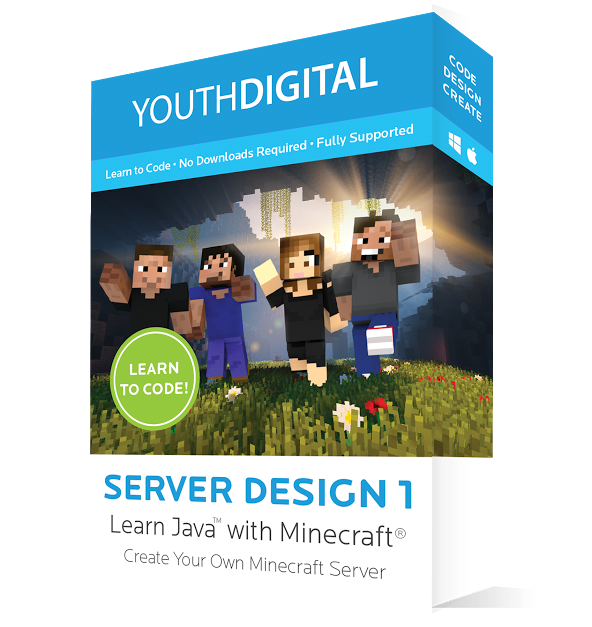 Server Design 1
Ages: 8 - 14
Price: $249.99
Type: Website, Software, Game
By
Youth Digital
Description
Youth Digital Server Design 1 is an online course that teaches students how to program and customize their own Minecraft server from start to finish coded in Java. Students will have complete control over every aspect of their server and are able to invite friends to join their independently developed digital world. Being the manager of their server, students are enabled to take on a leadership role and supporting their peers. The course consists of engaging videos, challenging assignments, interactive quizzes, and ongoing access to the student's own personalized, secure server that evolves with the student's imagination and aptitude throughout the course. The course is structured to start by introducing general concepts of programming in Java and server creation, but the course grows with the student, increasing in complexity of programming concepts that the student can instantly integrate into their design.

By the end of the course, students will know how to use professional program development tools and they will have their own fully functional server they coded from scratch. This course incorporates critical thinking, enables creativity, and increases cognition. Students learn valuable skills on a Minecraft platform that they can build from with their acquired skill set, share with friends, and find pride in self-accomplishment.


Review Highlights:
In addition to javascript coding my son has not only worked on skills of following directions but also of learning how to properly communicate via e-mail with his course teacher, patience and perseverance. It has allowed him a higher learning additional dimension to the video gaming world.
I LOVE that the students in this course have access to a teacher at all times. This absolutely sells this course for kids. I love that the video tutorials are available 24/7 and take the student step by step through the entire process. It allows my son to obsess about Minecraft in an educational and productive way.
Overall a fantastic product! I'm extremely impressed and will definitely be considering their other courses in the future.
Buy this product at:
As an Amazon Associate we earn from qualifying purchases.