Academics' Choice Award™ Winner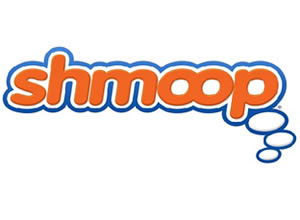 Shmoop Videos
Ages: 10 and up
Price: $0.00+; Varies
Type: Website, Videos, Book, Software
By
Shmoop University, Inc.
Description
Launched in 2007, Shmoop (schools.shmoop.com) is a digital publishing company with "a point of view." We believe that education need not be an arduous Herculean set of labors—fun is not the enemy here. We own 100% of our content and present both a consistent voice and a distinctive product offering. Our resources balance a teen-friendly, approachable style with academically rigorous materials to help students understand how subjects relate to their daily lives.


Review Highlights:
Shmoop provides an unbelievable treasure-trove of educational curriculum. From elementary to college-level courses! From RtI to AP courses! From products for students to those for teachers/parents! The real question is what does Shmoop not provide!
Shmoop has an abundant amount of course offerings ranging from the practical (How to Buy a Car; How to Write a Resume; Citing Sources) to the theoretical (Game Theory; Social Contact Theory). Shmoop advertises over three hundred courses. Though I did not count them, there was nothing that I looked for that I couldn't find. They had ACT prep and film courses for my very theatrical fifteen year old sophomore; they had courses on World War I and II for my sixth grade historian; and even courses on great works of literature that I was even interested in! Though course offerings were limited for those in elementary, the courses that they did were outstanding and presented well the concepts of analyzing and investigating literature on a student level. Furthermore, there was a lot of curriculum for teachers at this grade level.
Shmoop offers a large number of courses that are considered college-level that could be registered with ACE for potential college credit. These courses are clearly designated by the mortarboard icon pictured next to them. Shmoop explains the process on their site on how to register these courses with the ACE site. One can work on all of the college courses at one's own pace, just as you can with the rest of the courses offered by Shmoop.
When I first logged in to look at how the classes were set up, I was a little taken back by the amount of reading that was involved. My daughter is not the strongest reader, and I was hoping for more video/audio instruction. I was shocked when my daughter said that her favorite part was the reading! I asked her why this was; she replied that the writing feels like it is written for her. It included related pop culture facts that she found interesting. What Shmoop does so well is connect the new knowledge with cultural information that my daughter knows well. In this way, my daughter was motivated to read for details instead of trying to scan her way through.
My absolute favorite thing about Shmoop is its focus on literature. Yes, it covers all subjects, especially at the high school level, but literature seems to be infused within everything. And not just the classics! There were courses or units of courses that looked at the Hunger Games (and other favorites of this generation).
The test prep that we looked at was phenomenal. My daughter is preparing for the ACT and as part of the diagnostic section of the ACT prep that Shmoop provides it gave her a practice test and then broke down the areas where she needed to focus. This was valuable information for us to know as she begins to put together her study plan.
The pricing for Shmoop is really quite reasonable. There is a huge discount for signing up for a year, but there is also a month-to-month option so if a parent or a teacher needs to trial Shmoop to make sure that it fits the learning style of the students for a few months before committing, that is a possibility.
Buy this product at:
As an Amazon Associate we earn from qualifying purchases.