Academics' Choice Award™ Winner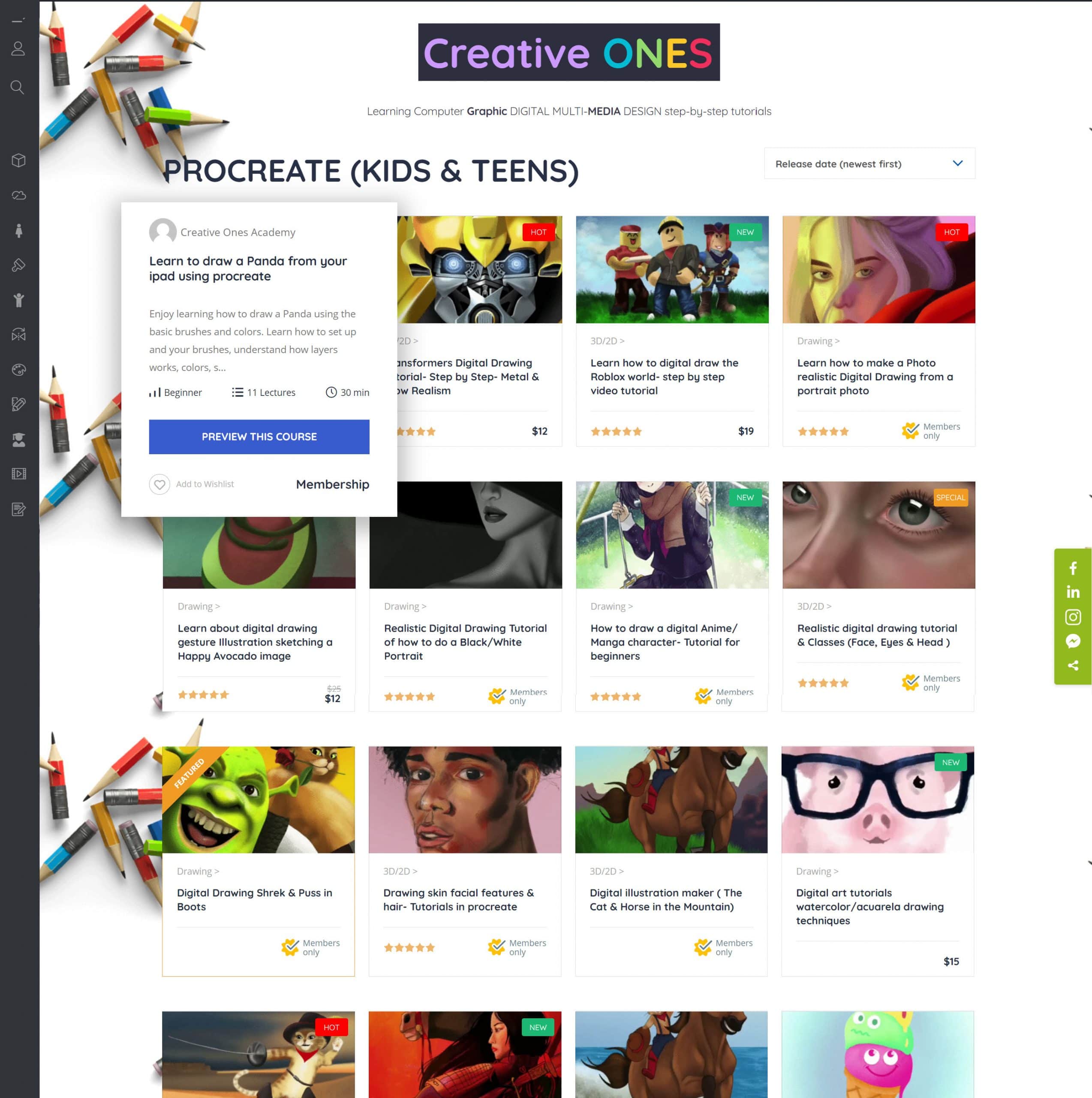 Smart Media Program for Schools
Ages: 10 - 20
Price: $45.00/mo.
Type: Website, Arts & Crafts, Video
By
CreativeOnes Digital Art Academy
Description
The Smart Media Program for Schools is an After School Enrichment Program. Our goal is to help students to gain skills & level up with the latest new digital media art design software/ applications in Multi-Media Design Industry.

Students learn digital sketching, drawing, animation, 3D/2D, and VR/AR using Procreate, Photoshop, Dimension, Illustrator and more using mobile or desktop platform. Our goal is to help students to evolve step-by-step with professional passionate creative instructors.

When enrolled in an ongoing program students have access to many video tutorials along with exercise projects. We also host fun educational camps for summer and winter breaks. This is an enrichment learning program to give students creative skills to use in today's digital world so they can use those talents productively as they grow older.

Our school programs are a combination of self-learning from video tutorials and online/live professional instruction. Students love our ongoing classes and enjoy practicing their skills though practical projects.

Find more at:
https://creativeones.art
https://learning.creativeones.art/learning-pods/
https://learning.creativeones.art/conroe/
https://learning.creativeones.art

Review Highlights:
The Digital Art Academy from CreativeOnes offers various graphic design programs for users to learn skills such as animation, Photoshop, digital sketching, and more! Whether you're a beginner or looking to advance your skill set, you will have help from a handful of step-by-step tutorials and access to online and live classes taught by instructors. There are also Summer and Winter camps available to help young students participate in creative, productive outlets that keep them engaged during breaks from school.
Smart Media Program for Schools offers so many tutorials for digital media illustration, from Disney characters, Harry Potter characters, Powerpuff Girls, Pokemon, Pixar characters, Roblox, and so much more! You can choose from tons of tutorials offered to members, or purchase a class series from the hundreds that are offered through the website. My thirteen year old daughter spends most of her time practicing her art skills, so this has been the perfect outlet for her to hone in on her hobby and enhance her drawing abilities. You can choose your level, from beginner, intermediate, and advanced. My daughter started at the "beginner level" and has already progressed so much in the few months we've been using this website. Now she's interested in some of the Summer Camp courses they are providing. We are so thrilled to have found a creative channel for her to express herself!
Since almost everything has moved online in the last year due to COVID-19, this has been a lifesaver to help my son through this pandemic. He has a passion for art and had developed interest in graphic design, so we signed him up last summer to try one of the summer camps they offer. He fell in love with the online program, and continues to build his drawing and animation skills. There are loads of video tutorials he can watch to help him learn new skills or hone in on a particular area such as 3D or digital sketching. It has become such a positive, creative outlet for him and is a huge plus for me as a parent that he can do this instead of hours of social media. We love it!
Buy this product at:
As an Amazon Associate we earn from qualifying purchases.