Academics' Choice Award™ Winner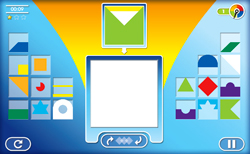 SmartGamesLive.com
Ages: All Ages
Price: $26.00 for a 12 month subscription (Free demos available)
Type: Website
By
Smart Toys and Games, Inc.
Description
SmartGamesLive.com brings Smart Toys and Games - award-winning single-player logic games to the web, offering 13 of its games. With levels from Starter to Master, SmartGamesLive.com includes popular games Airport, Anaconda, Anti-Virus, Camouflage, ChickenShuffle, ColorCode, Magic Forest, Pirates, Penguins, Roadblock, Safari, Temple Trap and Titanic. Along with the ability to view tutorials on how to play each game, users of SmartGamesLive.com can enjoy playing games in full-screen mode without distracting advertising banners. SmartGamesLives.com also gives users access to links where they can easily purchase apps for Smarts' games.
Review Highlights:
Smart Games Live is a website for children and adults to visit and have fun together while at the same time developing important cognitive skills. Most games aim toward logic and visual spatial intelligence. The puzzles use pleasing shapes and colors, characters and animals such as airplanes, snakes, penguins and pirates to set up a problem solving scenario for the child. If you are tired of mind numbing games and apps for both you and your child, visit this website. My son and I had fun reviewing it!
Addictive mind-building fun!
Buy this product at:
As an Amazon Associate we earn from qualifying purchases.