Academics' Choice Award™ Winner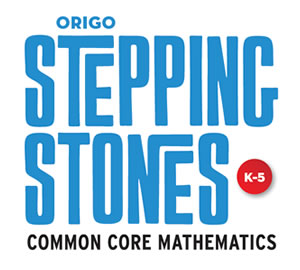 Stepping Stones K-5
Ages: 5 - 12
Price: $11.95
Type: Website, Book, Software
By
ORIGO Education
Description
ORIGO Stepping Stones is written and developed by a team of experts to provide teachers with a world-class elementary math program. Our expert team of authors and consultants are utilizing all available educational research to create a unique program that has never before been available to teachers.

-A teaching sequence that fosters studentsí thinking and reasoning skills
-Individual teacher access to all content from all grades, K-5
-The ability to reach all students
-Embedded online professional learning for teachers
-Multiple methods to assess skills and depth of understanding
-Cost effective solution to Core Mathematics implementation

Review Highlights:
Origo is a complete math program that addresses the Common Core. In addition to the lessons, there are games for students online and many graphic organizers for the teacher to print. The teacher can easily create needed visuals to present to the class or an individual for one on one help. The differentiation activities help provide the extra practice or challenge for the full range of students in a class.
As a special education teacher, I found the differentiation activities and the White Board activities allow me to individualize lessons for students who have special needs. I also appreciate the problem solving and investigations to help students apply their skills and expand their knowledge. Origo is a complete program that addressees all skills and provides many extras. Students will enjoy working with this program.
Find this product at:
As an Amazon Associate we earn from qualifying purchases.