Academics' Choice Award™ Winner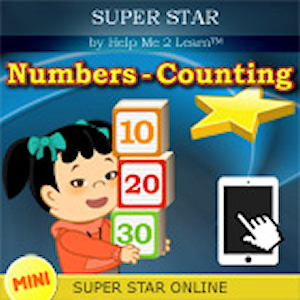 Super Star Online: Numbers - Counting
Ages: 4 - 6
Price: $5 per user, per year (25 users minimum) Free Trial!
Type: Website, Game
By
Help Me 2 Learn Company
Description
Counting is one of the most basic and important skills that a child can learn. Super Star Online: Numbers - Counting is designed to build counting skills step-by-step using a wide variety of media: songs, activities, and games. We start with counting to 5, then to 10, then to 20, and finally to 30. Kids earn a silver or gold star as they complete each lesson, with the goal of earning the "Gold Star Certificate of Achievement.

Numbers - Counting is one of our new mini courses. We also offer Numbers - Number Recognition for kids who are learning their numbers and Number - Math to take kids into beginning addition and subtraction.

Numbers - Counting is just one of the many courses that are offered with any subscription to Super Star Online for Schools (all of our courses are offered with any subscription) for $5 per user, per year. Our goal is to always make learning fun, easy, and engaging.


Review Highlights:
Children learn how to count numbers as they sing along to different songs like "Little Skunks", "One Lonely Bird Song", "I Can Count Song" and so many more. There are also fun games that help them learn how to count, such as "How Many Skunks". A number of cute skunks appear on the screen and children have unlimited time to pick the right number they see. For more of a challenge, they can try the speed round for numbers 1-20, picking the next number in the sequence as fast as possible.
My son is making so much progress learning to count numbers this way. He enjoys some of the songs, but his favorite are the games. There are four different levels for kids to learn to count numbers 1 through 30. Level one starts with numbers 1 - 5, level two is 1 - 10, level three is 1 - 20, and finally level four is 1 - 30. I like that it goes up in increments so he's not overwhelmed and can take his time learning it as his own pace.
Super Start Online is an effective way to teach children number recognition and to count with songs and games.
Buy this product at:
As an Amazon Associate we earn from qualifying purchases.