Academics' Choice Award™ Winner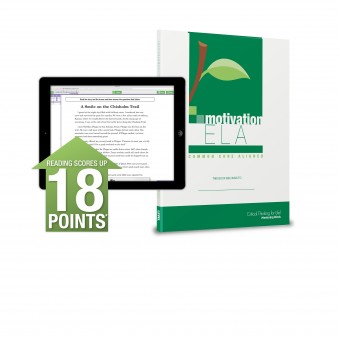 Total Motivation ELA
Ages: 8 - 11
Price: Individual pricing: Student Edition - $14.45 Teacher Edition - $29.95; Bulk pricing: 10-99 units - $14.45/student 100-399 - $13.45/student 400-749 - $12.45/student 750+ Call for pricing
Type: Website, Software, Book
By
Mentoring Minds
Description
Total Motivation ELA is a rigorous and comprehensive supplemental resource that integrates critical thinking into English Language Arts instruction. Designed from the ground up to address 100% of the Common Core Standards, Total Motivation unpacks each standard and helps teachers fill the gaps in student learning. By incorporating both print and online components, Total Motivation provides greater flexibility for 21st-century classrooms.


Review Highlights:
Mentoring Minds has produced a phenomenal tool for children to develop critical and creative thinking skills. The student work book is packed full with strategically placed content and questions. It includes both informational and literary text to read, discuss and analyze. The excerpts are well written and often underline vocabulary words that need to be learned during each specific unit.
The Teacher Guide and online component offer ample resources for teachers new to the series. Topics such as assessment, levels of comprehension, selected response questions, critical and creative thinking prompts, glossary, and standards correlation are introduced as well. I thoroughly enjoyed reading the Teachers Guide as it is chocked full with valid information. Pedagogy and technology are essential elements in the classroom and this book offers solid information on both subjects. In particular, I enjoyed the Flexible Delivery section. The authors agree that students should have some choice in how they prefer to receive the content: online or on paper. I also like the detailed explanation on how to monitor each student's progress. Mentoring Minds has a resource rich website as well. If you were to come across any problems whether it be online or not, the user has immediate access to remedy the situation. As a longtime teacher and administrator I'd highly recommend Mentoring Minds to any school or district looking to develop critical and creative thinking in the classroom.
Buy this product at:
As an Amazon Associate we earn from qualifying purchases.