Academics' Choice Award™ Winner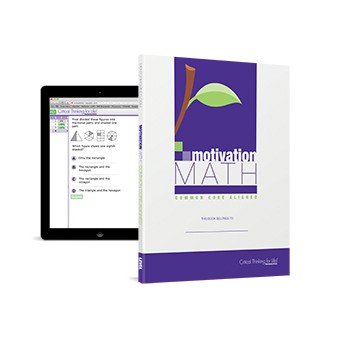 Total Motivation Math
Ages: 6 - 11
Price: Individual pricing: Student Edition - $14.45 Teacher Edition - $29.95; Bulk pricing: 10-99 units - $14.45/student 100-399 - $13.45/student 400-749 - $12.45/student 750+ Call for pricing
Type: Website, Software, Book
By
Mentoring Minds
Description
Total Motivation Math is a rigorous and comprehensive supplemental resource that integrates critical thinking into math instruction. Designed from the ground up to address 100% of the Common Core Standards, Total Motivation unpacks each standard and helps teachers fill the gaps in student learning. By incorporating both print and online components, Total Motivation provides greater flexibility for 21st-century classrooms.


Review Highlights:
I was amazed at the quality of the material and teaching support! It is all Common Core aligned and offers so much on HOW to actually teach and use this book. Most books I get are not like this at all. I really liked the Critical Thinking, Partner Practice and Parent Activities. I also liked the Children's Literature Connections and Vocabulary Activities. All of these really make this book standout and kept it interesting for my daughter. My daughter is not a big math fan, but seemed to like the book as well. We had a good conversation about the different levels of thinking such as analysis, application and synthesis.
I liked this workbook. It was hard for my son but we did get through most of the exercises. I really appreciated the teachers book. I learned a lot from it. The ability to mix online and offline activities worked well for my son as well.
As a teacher I really appreciated that you could analyze each assessment item in relation to Bloom's Taxonomy.
Buy this product at:
As an Amazon Associate we earn from qualifying purchases.