Academics' Choice Award™ Winner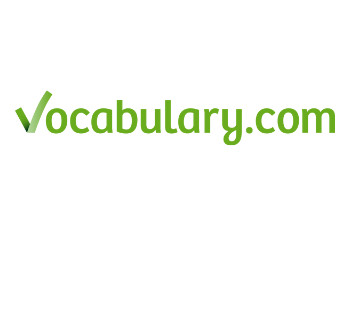 Vocabulary.com
Ages: 9 and up
Price: Free for learners and students, $159 annually for individual teachers, site license for multiple teachers and classrooms also available
Type: Website, Game
By
Vocabulary.com
Description
Millions of students, teachers, and lifelong learners across the globe use Vocabulary.com to master words and build a better vocabulary. With more than 16,000 words, over 242,000 questions, and 13,000 ready-made vocabulary lists, it's easy to supplement any teacher's curriculum or align with any student's interest.

One-size-fits-all approaches to growing vocabulary skills are disconnected from core academic instruction and boring for students. Instead, Vocabulary.com's adaptive platform instantly assesses each learner's vocabulary with every question they answer. Vocabulary.com then exposes them to a wide array of words, question types, real-world examples, and activities to systematically develop literacy skills.

Truly learning a word means more than memorizing a single definition. On Vocabulary.com, students only master a word after they have demonstrated an understanding of all of the word's meanings, and have encountered it in multiple contexts. The platform also helps grow students' literacy skills by fine tuning questions as learners build a foundational understanding of words.

Vocabulary.com uses insights from the millions of questions answered every day on the platform to support data-driven classrooms: Teacher dashboards pinpoint learning gaps and concepts that need reinforcement, highlight students who would benefit from more support, and facilitate an adaptive learning experience. As students complete assignments, detailed reporting makes it easy for educators to follow each student's performance.

Vocabulary.com offers activities for instruction, review, and assessment that teachers can assign and students can work on independently: Flashcards expose learners to new words so they can quickly start reviewing definitions before moving on to other activities and assignments. The Challenge is an adaptive game that exposes students to words with multiple meanings and contexts to hone vocabulary knowledge. Practice gives students a set of words to learn, allowing teachers to direct instruction toward specific words students should know. Schools use Vocabulary Jams as competitions to motivate students and see who can answer questions as quickly as possible to gain points. And Quizzes serve as customizable and self-grading tests.

Vocabulary.com also gamifies education with its Vocabulary Bowl–an academic competition that inspires students across North America to master words for their schools on a local and national level. With every activity, students gain points and achievements so they can level up in the rankings while building their literacy skills.

Vocabulary.com's gamified approach to learning encourages students to flex their vocabulary muscles with daily exercise and inspires them to master words beyond what their teacher has assigned.


Review Highlights:
Vocabulary.com is a powerful and FREE web-based platform to learn new words. We love that it promotes vocabulary comprehension over rote memorization by showcasing word usage in multiple formats. The 10-word quizzes with 4 multiple choice answers present words in context, and once answered correctly, provide synonyms, usage in a sentence and explain the meaning behind each word. The simple error feedback - "try again" - is appropriate and not off-putting. User must select the correct answer to continue. The system is adaptive and also customizable. The spoken audio feature is helpful for the visually impaired and students with special needs. The customizable "New List" feature is particularly helpful for teachers/parents that want students to learn a specific vocabulary list. Simply enter a list of comma separated words and a quiz is automatically generated for your students. Users get points and badges for correct answers, which encourages continued use, and each user's progress is tracked.
Vocabulary.com's Roadmap to the SAT - a week-by-week test prep program is a very helpful feature. They also offer test prep for the GED, GRE, ACT, and more.
Understanding the meaning behind the words they use empowers students to speak with confidence, and teachers can check out which words students may need extra support with on the teacher dashboard. Two thumbs up!
Students learn and practice vocabulary, reading, and comprehension in a gamified system.
Buy this product at:
As an Amazon Associate we earn from qualifying purchases.