Academics' Choice Award™ Winner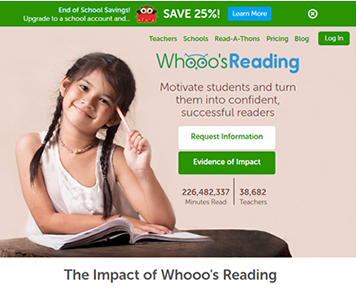 Whooo's Reading
Ages: 5 - 14
Price: $5-$8 per student or $15 for a single teacher to use
Type: Website, Software
By
Learn2Earn
Description
The next generation, gamified platform has arrived and it:

— Motivates students in grades K-8 to read more every day
— Encourages them to improve specific standards-aligned reading and writing skills
— Boosts their confidence in writing for authentic audiences, including teachers, classmates and friends, even administrators and family members
— Gives teachers the ability to assess reading comprehension skills from any device including a smartphone, tablet or computer

This newest online gear for the New Year is Whooo's Reading by Learn2Earn.

Specifically designed with the motto 'make sure the kids always win,' the lively Whooo's Reading platform makes reading fun by giving students the power of choice, allowing them to read fiction or nonfiction material while incorporating online game elements preferred by today's digital natives.

Students using Whooo's Reading via their secure personal profiles are inspired to read and think critically—and when doing so, are rewarded with virtual Wisdom Coins to personalize and embellish their Owlvatar. This adds a sense of ownership to their work, which motivates them to try harder, thereby improving reading, comprehension and writing skills. Students are encouraged to engage with peers within their class's interactive newsfeed, which displays the books, comments and responses of their classmates.

Teachers using Whooo's Reading also have customization options, allowing them to create their own question prompts to promote comprehension. Equally accessible are the growing number of preloaded questions aligned with specific standards. The reading anchors (K-8) come standard with each account. These questions hold students accountable to their independent reading in a way previously not possible. Teachers have the ability to review each student's reading responses and give qualitative and quantitative feedback. They can analyze individual and class-wide progress in addition to students' mastery of specific standards from the data dashboard. For a long-range view, teachers can further monitor students' reading level increases using their preferred comprehension measuring method, including Lexile, Fortuna and Pinnell, Reading Recovery, Rigby, and DRA.

The company recently integrated with Google Classroom in response to teachers' expressed interest in the idea. The core benefit of integrating with Google classroom is that teachers and students can log in with their Google account. With the Google Classroom integration, new teacher users will no longer have to upload a roster file to add students, but will be able to automatically add their students by syncing with Google Classroom. Those students won't have to remember another username or password, but will be able to log in with their Google accounts. Additionally, existing teacher users will be able to sync their current student accounts with Google classroom so their students will also be able to log in with their Google accounts.

The platform also recently launched a new badges system, where every standards-aligned category awards students three different types of badges:

— Focus badges, awarded for answering at least seven questions in a category.
— Mastery badges, awarded for receiving a "4" (the highest grade) from their teacher on three or more responses.
— Mystery badges, awarded for secret conditions that vary from category to category. For example, one category awards a badge if the student's response gets one "like" from a teacher, one "like" from a parent, and one "like" from a fellow student.


Review Highlights:
Absolutely perfect app for motivating, tracking, and monitory student progress! My 3rd grade son loves earning coins then going to the owl store to upgrade his owl. There are so many choices for him there - he's after the space helmet now! It's so easy to track his progress and even I get my own avatar. Comprehension questions bases on Common Core Standards are provided for each book to deepen critical reading skills. As a father and teacher, I'd highly recommend Whooo's Reading to any teacher that wants a great tool to keep up with each student's process of reading in an updated and easily accessible way.
Find this product at:
As an Amazon Associate we earn from qualifying purchases.