Academics' Choice Award™ Winner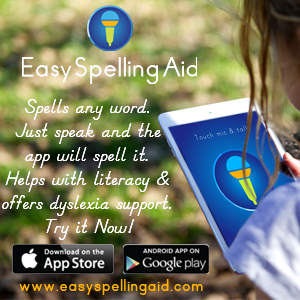 Easy Spelling Aid
Ages: 5 - 12
Price: $2.99
Type: Mobile App
By
Nuapp Productions P/L
Description
The Easy Spelling Aid app is the perfect tool to help children learn how to spell and write any word at home and at school. This app can spell words or phrases instantly by utilising superior speech recognition, finely tuned to pick up on your child's voice or accent.

What makes Easy Spelling Aid unique and different is that it doesn't aim to teach a list of spelling words, but instead acts as a tool when a child is faced with a word they don't know how to spell. Improving literacy performance and working to help children learn how to spell is a significant part of the apps unique value and purpose.

When children are working on writing assignments, homework or even just being creative, their creative thought process could be blocked when they stumble across a word they cannot spell. Easy Spelling Aid is a great tool to use in this situation as it gives them a way to easily and quickly find out how to spell the word without having to wait for a parent, teacher or assistant to help them. This app could assist children and students to become independent writers.

Easy Spelling Aid supports 22 languages, including regional US English and includes writing styles US D'Nealian Manuscript and US D'Nealian Cursive.

Easy Spelling Aid includes the Open Dyslexic font displayed in a choice of 6 background color combinations, as a means to accommodate users suffering from dyslexia and improve readability.

"I tutor dyslexic children and we find this app invaluable!" D. Fritz, Certified Barton Tutor at the Advanced Level

With an easy-to-use interface and seamless user experience, Easy Spelling Aid works by displaying a large microphone icon that a child must touch before speaking a word or phrase they have been struggling with. The app presents the word or phrase, atop writing lines to assist with writing, enabling the child to correctly spell the word and continue with their work. Easy Spelling Aid not only helps children with written words, but also helps give them an exercise in comprehension and vocabulary.

Easy Spelling Aid is also very helpful in the learning of homophones by using context to determine the correct spelling of a word, e.g. "They're playing over there, in front of their house" or "Two friends had too much to eat".

Peace of mind is at ease as there are no ads, in app purchases, externals links and its child friendly - profanity is filtered out.

Easy Spelling Aid is a 21st-century learning tool that will help a child in your life, for years to come as they navigate elementary school and beyond.

"Thank you for your brilliant product. It is a game changer." Special Education Teacher Aide

Review Highlights:
I love that Easy Spelling Aid is easy to use, and allows students to work independently. The product gets kids excited about spelling, and provides a quick and easy solution for a prevalent problem. This app can lessen frustration, allowing kids to focus on content, knowing they will easily be able to check any unknown words. I love the ability to switch between print and cursive, and the option to have the words displayed on lines. This app is a perfect complement to any homeschooling curriculum.
The app makes spelling super fast and easy, and is especially helpful for children who are in special needs education. I can see this app being useful for students practicing their spelling words.
The Easy Spelling Aid app is so easy to use! With its high tech voice recognition software your child will be able to improve their vocabulary quickly. I like that the app offers several writing styles and background choices, which can be helpful for children with dyslexia. I appreciate that Easy Spelling Aid does not spell inappropriate words, so it really is child safe.
Buy this product at:
As an Amazon Associate we earn from qualifying purchases.