Academics' Choice Award™ Winner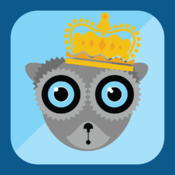 Flip4Gold
Ages: 7 - 11
Price: Free
Type: Mobile App
By
Magnitude Educational
Description
Flip4Gold is a new and exciting app that teaches and reinforces math skills in a fun and challenging way. The game is ideal for children aged 8 and up. Math beginners aged 5 - 7 will also enjoy the game as they can learn number recognition and practice addition in Level One with the potential to progress to higher levels as their math skills improve. Teens and adults will love the challenges too!

Review Highlights:
This app is ALWAYS different due to the rolling of the dice. Progression of individual students makes it a wonderful addition to any classroom device. Students develop logical reasoning, strategy and problem-solving skills with this FUN app.
Easy, easy, easy. This app is simplicity at its best. The learning curve is quite small so that students are off and running solving math problems in seconds. There is NO distracting sound!
You can play with more than one child by rotating who does the problems. I like that you can be challenged on different levels with addition subtraction multiplication and division. As you get better at each level it unlocks and lets you move to a new level. I love that it's free!! It has no 3rd party ads and no in app purchases. It allows for creativity, logical reasoning and problem solving skills by letting you answer the problem in two different ways. For example 2 + 4=5 + 1 or you can just put 2+4=6. It gives you options and lets you be creative in the answers.
Children practice mental math skills, creativity, logical reasoning, and problem solving skills. We really enjoyed this game. As a homeschool mom I really appreciate games that my kids can play while I am working with my other children that I don't have to worry about them seeing ads, or being asked to purchase stuff.
Find this product at:
As an Amazon Associate we earn from qualifying purchases.