Academics' Choice Award™ Winner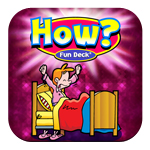 How? Fun Deck
Ages: 4 - 10
Price: $5.99
Type: Mobile App
By
Super Duper Publications
Description
This colorful App for the iPhone®, iPad®, iPod touch®, and Android™ has all 52 illustrated picture cards (plus audio of each card text) from the How? Fun Deck by Super Duper Publications. Select the cards you want students to see, and have them develop their reasoning, problem-solving, and sequencing skills as they respond to questions like, "How do you … help someone who's hurt?" and "How do you … make a sandwich?"
This App is simple to use — each student looks at an illustration, and either reads the prompt or touches the screen to listen to the prompt. The student then gives a verbal response. After each answer, tap the green (correct) or red (incorrect) button to score the student's verbal response. Move to the next card by sliding the card currently on the display screen to the side, and the next image appears. Move to the next player by sliding the bar at the top of the screen. When you finish, view the results, and email them to as many addresses as you like.

How? Fun Deck Mobile App lets you:
Select all 52 cards or just the ones you want students to see.
Enter all your students' names.
Track correct and incorrect responses for up to five players at a time (Android™ tracks unlimited players).
Email your results at the end of each game.
(Note: The App resets all data to zero at the start of each new game, so at the end of a game, email yourself any data you want to keep.)
Review Highlights:
Super Duper Publication's How is a great supplement to my thinking skills curriculum. It is also a great app to have for a road trip.
How? Fun Deck will definitely develop a child's ability to reason and problem solve.
This is a very easy to use app for my classroom. I can enter each students name individually and get results when they are finished playing. I can also e-mail their scores to my e-mail, or to their parents e-mail in an instant!
Buy this product at:
As an Amazon Associate we earn from qualifying purchases.