Academics' Choice Award™ Winner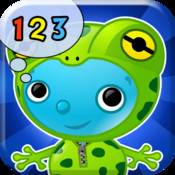 i Learn With Boing: Savannah Adventures!
Ages: 3 - 6
Price: $2.99
Type: iPad App / Software
By
Tribal Nova
Description
Embark on a new fun adventure in the savannah in which your child will learn key math skills such as counting, ordering numbers and adding or subtracting while playing with savannah animals!
Key features
This app is part of the iLearnWith program for kids 3 to 6 designed to get your child ready for school while having fun!
• Cross curricular game-based learning program in math, science, literacy and more
• Self-adjusting levels of difficulty
• Unique progress tracker for parents
• Detailed success stats for your child that can be compared with children the same age
• Recommended learning path personalized for your child
• 27 fun rewards and medals to motivate your child to learn
• Designed with educational and child development experts

Game 1 – Meerkats!: Help the meerkat chef prepare his soup by identifying quantities of items between 1 and 20 and associating them with the written numbers.
Game 2 – Frogs!: Help the cute little frog cross the pond by choosing which lily pad to jump next. Your child needs to identify numbers in the correct order, increasing or decreasing, and recognize certain number patterns.
Game 3 – Ostriches!: Catch the right number of ostriches and get them in the truck before it leaves. Your child needs to add or subtract up to 20, taking into account groups of 2 or 3. Includes a two-player mode for parent-child or peer-to-peer gameplay.
Primary skills taught:
- Math
- Counting
- Addition
- Ordering
- Substracting
Secondary skills:
- Number recognition
- Correspondence
- Visual discrimination
Review Highlights:
This iPad app is a great value and instantly captivates young minds. Our three year old dropped her favorite toy the moment she saw the software interface. We had to coax her away from it after she maxed out on her computer time for the day. A week later she still wanted to play! The audio instructions are clearly worded and easy to understand. The examples and game interface made it simple for her to get started and navigate. Difficulty adjusted automatically as she progressed, which increased it's value and effectiveness as a learning tool while building confidence appropriately. The adaptive approach also made it fun to play again and again. The responses were rewarding, never discouraging. The basic math skills taught (counting, adding, sequencing/number order, number recognition) were age appropriate and provided great practice. The two-player mode allowed for great bonding time and provided old dad with some brain maintenance too. Five stars for i Learn with Boing!
Buy this product at:
As an Amazon Associate we earn from qualifying purchases.