Academics' Choice Award™ Winner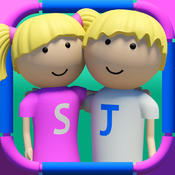 Key Word Kids
Ages: 1 - 10
Price: $24.99
Type: Mobile App
By
Language and Learning Steps
Description
Key Word Kids is an educational therapy program app that focuses on teaching Language Comprehension and Expression using an Information Carrying Words approach (Derbyshire Language Scheme-Masidlover).

This app is based on our KEY KIDS Steffy and James and their interactions with objects within various scenes. The child needs to listen and look carefully, and follow directions by understanding the sentences which contain an increasing number of KEY WORDS. These are the words a child MUST understand in order to comprehend a message (Comprehension), or use in order to have their message understood (Expression). This is an internationally popular app and is well regarded by parents, teachers and Speech Language Pathologists for use with any child developing language, but specifically for those children with language disorders or delays. The app was developed as part of research and development, to translate a 'hands on' toy based program idea to an app form in order to reach a wider range of children. This app has been followed by a small app focusing on verbs -Key Verbs with Steffy and James.


Review Highlights:
Key Word Kids allows children to practice listening skills, as well as the ability to carefully follow given directions. The app provides opportunities to build language and vocabulary skills, as well as develop overall language comprehension.
As a parent, I love the focus on listening and following directions. Additionally, the app is great as a vocabulary and language builder for young learners and those with language delays. The mini games and different scenes keep the app fresh and interesting for young learners. Kids can move between listen and follow activities and more self-directed activities -picking up new words as they play and navigate through the app.
We liked the multisensory, graphic-rich interactive aspect the most. By allowing students to carry out the verbal instructions interactively (linking carrying words to their respective images) the depth of learning increases in a very natural, playful way, which in turn improves retention and understanding.
Buy this product at:
As an Amazon Associate we earn from qualifying purchases.