Academics' Choice Award™ Winner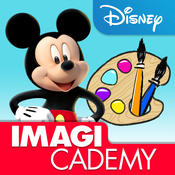 Mickey's Magical Arts World
Ages: 3 - 8
Price: Free with In App Purchases
Type: Mobile App
By
Disney
Description
"Mickey's Magical Arts World" is a one-of-a-kind app from Disney Imagicademy that offers children curriculum-based tools to create and personalize their very own Disney-inspired neighborhood, "Mickey's Main Street." Alongside Mickey, Minnie, Donald, Daisy, Pluto, and Goofy, children can transform Mickey's Main Street into a lively, creative and musical world of their own, by crafting unique characters that - for the first time ever - can star in Disney cartoons alongside Mickey and friends, infusing classic animation with their own drawings, self-designed buildings and originally-created music. Children will explore key elements of art and design principles, experiment with basic music concepts, practice fundamental dramatic techniques, and much more.

FEATURES:
• Mickey's Sketch Artist: Children can follow the Mickey-guided tutorial or draw free-style to create characters and more; while experimenting with color, shape, line, and visual texture, they are honing fine motor skills.
• Donald's Costume Play: Children can stylize their character, children practice improvisation, storytelling, costume design and character development as they create their very own cartoon.
• Mickey's Music Maker: By mixing and matching 12 different instruments, children can choose which sounds they like best, record their compositions, and play back their masterpieces.
• Pluto's Crafty Creator: Children are exposed to five super-fun craft stations where they can explore different art tools and how materials interact, without making a mess
• Minnie's Art-chitect: By experimenting with colors, patterns, and textures, children can customize and design buildings. As they craft their buildings, they are practicing five key design principles including symmetry, balance, proportion, rhythm, and harmony.

Review Highlights:
We enjoyed choosing instruments with Mickey, painting with Minnie, and theater with Daffy. My boy chose instruments to play, painted his own character and dressed his own actor. I really liked how the game is set up to talk to the kids and let them know what to do and how to do it yet we could still explore. We also won pins to help show and confirm that we were doing the activity properly. Overall this was a wonderful app to let your child be creative!
Buy this product at:
As an Amazon Associate we earn from qualifying purchases.