Academics' Choice Award™ Winner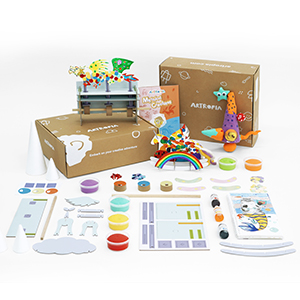 Artropia Themed Box
Ages: 4 - 9
Price: $34.95
Type: Arts & Crafts, App
By
Artropia
Description
Artropia is designed for children aged 4-9. By merging the best elements of arts education, hands-on crafts and digital learning, Artropia provides a multidimensional novel approach to playful learning.

In Artropia, we believe that creativity, critical thinking and global awareness are three vital traits that can empower our children to undertake the challenges of a future unfamiliar.

Our learning framework is founded on the fundamental idea of nurturing a child's artistic, critical thinking, and cognitive skills through the process of discovery, understanding and creation.

Each box contains four lessons which are centred around a core theme that falls under one of three key subject areas: nature, culture and society. Key learning concepts are delivered via engaging storytelling through an interactive App as well as the instructional videos for our creative arts crafts.

In our Mythical Creatures themed box, children will embark on an epic adventure with their adventure buddy Brodi, learn about symbolic creatures from different cultures such as Dragons, Mermaids, Unicorns and Alebrijes and create their own pet mythical creatures. They will also develop an understanding of artistic concepts such as primary colors, mix and match and structural design.


Review Highlights:
Artropia truly allows children to develop their creative thinking and artistic expression. As children work to piece together their projects, they flex their problem-solving skills. For parents and educators looking to incorporate STEAM into their child's life, Artropia is a fantastic option as kids use science, engineering, and art to create their projects in the Mythical Creatures kit. Additionally, children will develop their artistic skills, learning to work with new supplies, tools, and creative mediums.
This is perhaps the BEST art project box we've had the opportunity to review in our home - and we've reviewed A LOT over the last 11 years. I was blown away by the quality of the included art projects and the absolute treasure trove of included supplies. The diversity of the projects and supplies is incredible - giving patrons SO MUCH MORE than the average craft box. I was delighted to see a box that went so far above and beyond the typical paper/cut/glue/color projects handed to young children. My children felt as if they had just been on a shopping spree to the local craft store.
I love that the box included open-ended components. As a classroom teacher and as a parent, I have seen first-hand how difficult creative thinking can be for children once they become used to having to do things a certain way. I love that Artropia encourages that out-of-the-box thinking and really allows a child to creatively express him/herself. It was wonderful to have projects that had more than "one right way" to be completed. Bravo!
Artropia is a remarkable value. I love that this is a product families can afford - and that there are enough projects to go around in larger families like my own. 4 high-quality projects plus the immense amount of included supplies for the price you are offering is such a wonderful deal. We will definitely be customers in the future. (And as a blogger, I rarely say that.)
Buy this product at:
As an Amazon Associate we earn from qualifying purchases.