Academics' Choice Award™ Winner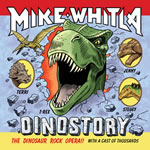 Dinostory - The Ultimate Dinosaur Rock Opera
Ages: 3 - 8
Price: $14.99
Type: Audio CD, Illustrated Storybook
By
Rainbow Songs
Description
Dinostory is a Rock'n'Roll musical for families!!

Mike Whitla takes us on a musical journey back in time to the Cretaceous period 100 million years ago when the dinosaurs ruled the earth. It tells the story of a baby triceratops who, as an egg, was separated from his siblings and hatched on its own. Little Terri has to go out into the world and find where she belongs. Terri's challenges include finding food and drink as well as a searching for a community that she can call home.

Along her journey, Terri is lucky to find other plant-eaters who help her out. Dinosaurs such as Jenny, the Ankylosaurus, and the peculiar Stegosaurus are some of the dinosaurs Terri encounters along her way. Of course the late cretaceous period also has its share of flesh eating monsters, T-Rex, who are not as friendly and Terri will need all the help she can get if she is to survive.

The music is rich and dynamic. As well, it makes more than one reference to musical styles of the past (classic rock, jazz, and reggae). The CD comes with a deluxe 28-page story booklet full of dinosaur illustrations and facts.
Review Highlights:
My 6 year old son loves this music CD. He likes to rock out with his air guitar with some of the heavier songs. The songs are very eclectic in style and keeps the listener engaged in this dynamic story of Terri, Steggy, Jenny and friends. The idea of a rock opera is very familiar to parents and challenges kids to really listen and have focus to pick up the pieces of the whole story. For many children this is difficult to do without visual stimuli. The jacket is helpful with great drawings and facts to follow along with through the story. The story also teaches a great message - respect for differences, valuing diversity, and cooperation despite background differences. They are one big dinosaur family!
I was rather skeptical that my kindergartener would enjoy this CD. He plays it over and over again! My three-year-old also requests to listen to it.
Buy this product at:
As an Amazon Associate we earn from qualifying purchases.