Academics' Choice Award™ Winner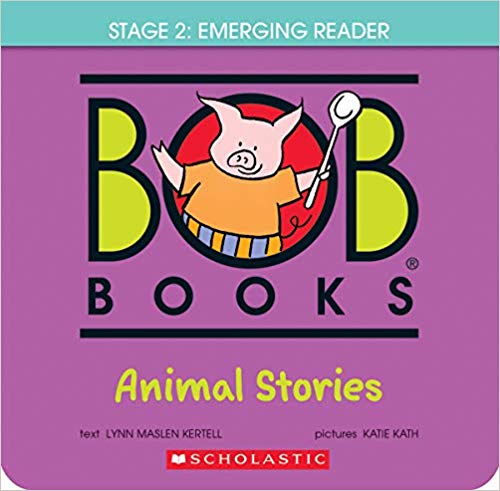 Animal Stories
Ages: 3 - 5
Price: $16.99
Type: Book
By
Bob Books Publishing, LLC
Description
In Bob Books: Animal Stories you will find 12 easy-to-read and humorous books, all featuring silly animal characters! With one- and two-syllable words and short vowels, the books in this set are fun confidence builders, especially for kids in kindergarten. Perfect for reading alongside the box sets Set 2: Advancing Beginners or Sight Words Kindergarten.




Review Highlights:
Bob Books are well-known as being a great tool to practice early reading skills. In Animal Stories students develop early reading skills (decoding, segmenting, blending, fluency) and practice receptive language, animal identification, and comprehension.
This book is excellent for beginning and struggling early readers. The characters/adventures are highly relatable such as the picky eater pig. Sight words and longer animal names are added for a bit of a challenge, but the main goal is developing reader confidence. Expect chuckles and giggles as your children achieve reading success with this clever book.
I LOVE these books. My 6-year-old always chooses Bob Books when told to choose books to practice oral reading. The characters in the Animal Stories are cute and get into lots of fun (and silly) adventures. The size of the books is just-right for little hands and encourages good book-handling skills. As an educator, I repeatedly recommend Bob Books for students and their families. This set is a wonderful addition that will be read again and again!
I've been using Bob books in my classroom for at least 10 years. They never disappoint. I have gotten countless K-2 students to get over the chunking hump into fluency with these books. I can't say enough good things about Animal Stories. The short digestible stories with a beginning, middle and end, the simple cartoons to accompany the text, the introduction of a single sight word that is identified on the first page, and the color-coded levels. It's all there. Well done, I'll keep using these books for as long as I teach reading. And now I have a new set to introduce to my class! Thank you!
We love Bob Books! This series was fun to work with because it was all about new animals! My son and I liked "mop," and "adrift," the most. The series is leveled up as smoothly as the others, introduced basic consonant blends in the first book, then two sight words and an unfamiliar word (mustache) in the last of the 12 book series. Bob Books are by far the simplest and most direct approach to get your child reading.
Buy this product at:
As an Amazon Associate we earn from qualifying purchases.