Academics' Choice Award™ Winner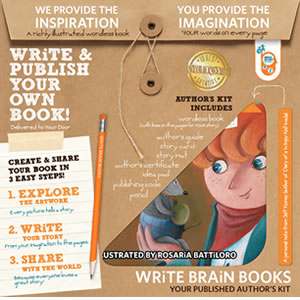 Author's Kits
Ages: 5 - 105
Price: $39.95
Type: Book
By
WRiTE BRAiN BOOKS
Description
The WRiTE BRAiN Author's Kit comprises everything any young person (or grown-up) would need to become an author of their own, original children's book, which will be PUBLISHED and shipped to their door! The kit includes: A richly illustrated, wordless book with lines on the pages for any author's story - Author's Guide – one illustrated Story Card (with writing games) – one illustrated Story Mat - an Official Author's Certificate - a note from author Jeff Kinney (Diary of a Wimpy Kid) – one idea pad – a FREE BOOK coupon - one orange WRiTE BRAiN pencil - and a code for a professionally printed, perfect bound published book with the author's photo and bio at the back! It's an exciting, imagination generating experience that makes kids WANT to write!

WRiTE BRAiN BOOKS is a company that offers products and classroom curricula that inspire kids of all ages to become authors of their own thoughtfully written children's storybooks. Self-esteem is elevated within a "disguised learning" process that requires nothing more than a little commitment and a lot of creativity. Young people find their own voices as they give voices to the characters they bring to life on the pages of their WRiTE BRAiN BOOK. Meredith Scott Lynn, the company's founder & CEO, sees "a world in which young people are making fewer connections; not just to other people, but also to big picture and holistic concepts, dreams for their future, and to their own ideas. They are so often anxious and distracted, thus developing fast-processing skills at the expense of slow processing skills, which support the development of attributes such as empathy and compassion. Kids spend an average of 74 hours per week on a digital device of some kind. This overwhelms their minds and provides immediate, though most often substance less gratification. They are auto-corrected at every turn, think less and less for themselves, and soon won't know how to sign their own name." The interactive Book Builder on the WRiTE BRAiN BOOKS website offers a fun, digital book-publishing experience that satisfies that digital interest without being the main focus of the activity.

WRiTE BRAiN BOOKS are not only game-changers... they're brain changers! A percentage of all sales helps fund WRiTE BRAiN GiVES, a 501c3 that provides our program and materials to underserved kids and communities.

Review Highlights:
I've been teaching 3rd grade for nearly 15 years. This product is perfect for my creative writing unit. First of all, it leads to authentic education, meaning, the child isn't studying or talking about authors but IS the author. This is key: empowering the students to become a real author. If children know what and who they are writing for and know the purpose of their writing (to publish a real hardback book) they will put everything they've got into it. Second, the illustrations are perfect for all ages and detailed with a full visual story. The young author creates the written story! All of the books are illustrated by top-notch artists who create images that will captivate any child with their colors, scenes, and expressions on the characters' faces. Descriptive writing requirements can all be met with Author's Kits for the independent study student, and the benefits, both academic and personal, are bountiful for the child lucky enough to have this kit at home. Finally, as children author their unique stories, even for the same illustrations, they learn perspective and flexible thinking, as they see the different interpretation made by each author.
Buy this product at:
As an Amazon Associate we earn from qualifying purchases.