Academics' Choice Award™ Winner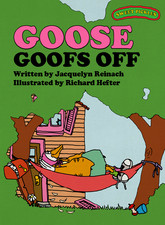 Goose Goofs Off
Ages: 3 - 8
Price: $3.99
Type: Children's Book (iPad)
By
Bento Box Interactive
Description
Smart moms know how kids' minds grow, upon sweet pickles. Goof-Off Goose is a lovable mess whose byword is "I'll do it tomorrow." Tomorrow she promises to straighten out the mess and get things done – but not today! Today she relaxes, dreams, lounges, sleeps and drowses in her hammock. Sweet Pickles is a series of 40 classic children's books based on 26 animal characters living in the town of Sweet Pickles. There's one character for each letter of the alphabet and each has an exaggerated human personality trait. One-by-one, the characters finds themselves faced with one of life's common pickles, but just because a pickle is a problem doesn't mean it can't be handled! The life lessons that come out of each character's pickle impart basic values, ethics and social skills to children. The new enhanced E-Books series creates an entertaining and engaging experience for children, while being an educational reading tool for parents and the whole family.
Review Highlights:
Goof-Off Goose loves to dillydally and so does my niece. She instantly related to the character. She continually asks for me to read her the story whenever I visit. The iPad app version made the experience all the more exciting as she got to turn the digital pages while I read. She also quickly figured out how to highlight the words and have the iPad read the story aloud. The illustrations are captivating and lively, and the moral of the story is timeless. She actually got the message too. According to my sister in-law she doesn't put off her chores and schoolwork quite as much. She also wants to live in the town of Sweet Pickles.
Buy this product at:
As an Amazon Associate we earn from qualifying purchases.