Academics' Choice Award™ Winner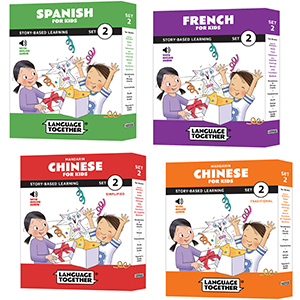 Language Together Set 2
Ages: 3 - 8
Price: $25.00
Type: Book
By
Language Together
Description
Language Together Set 2 is a box set of 10 beginner readers for children ages 3 to 8 who are beginning to learn a new language. The set is available in Spanish, French, and Mandarin Chinese (Simplified and Traditional editions). Each set includes access to the online audio narration by a native speaker.





Review Highlights:
Set 2 introduces more high-frequency vocabulary and phrases for children who are ready to get a little more in depth with their study of the Spanish language.
Spanish For Kids is amazing! It is obvious that Language Together has put a lot of time and research into developing this product. Both sets use what they refer to as their "Spot Color Immersion Method" that is a wonderful visual aid for anyone just beginning to learn a new language. This method highlights a word/phrase that is being focused on in the sentence being read. The highlighted word is the same color as the part of the picture it is describing, while everything else in the picture is black-and-white. This really draws the learner's attention to the word/phrase being studied and the part of the picture they need to focus on.
Teachers/Parents can also access an online audio narration for each reader. It is extremely helpful for anyone that is just learning a language to be able to hear the information being read by a native speaker. This enables a parent, that may not know much about the language themselves, to better help their child. It is a very important audio component that really captures a child's attention.
The books are written with clear, simple, sentences in Spanish only. This use of language immersion makes it much easier for a child to learn, because you aren't constantly switching back and forth between Spanish and English.
There is also a Teacher's Guide that can be downloaded for each set. The guide explains how to read the stories, draw attention to important words/phrases, ask questions, and use the online audio component. One of my favorite parts of the guide, is the section with the suggested activities. There are some really fun activities listed in this section. The guides also contain a section that breaks down how to enhance the lesson for each book, make a cultural connection, and use the book with additional themes. These guides really enable a homeschool parent to use these sets as a full Spanish curriculum for a younger child. You could study one book every week or two, by using all of the suggested activities, and your child would learn a lot while having tons of fun!
Buy this product at:
As an Amazon Associate we earn from qualifying purchases.