Academics' Choice Award™ Winner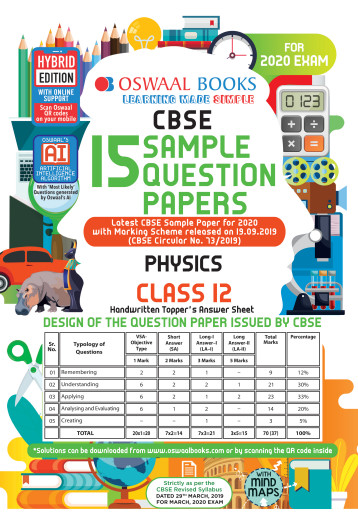 Sample Question Papers
Ages: 16 and up
Price: $4.03 USD / Rs.299
Type: Book
By
Oswaal Books & Learning Private Limited
Description
The Sample Question Paper (SQP) has been designed on the Central Board of Secondary Education (CBSE) curriculum 2020-2021. Here, the typology of the question paper is 100% matched with the CBSE blueprint for the 2021 exam. The SQP consists of five Sample question papers plus ten self-assessment for student's practice. The SQP also contains tips notes, mind maps for all chapters, and chapter analysis based on the latest syllabus. Overall Oswaal SQP gives the real exam feel for CBSE Board Exam.

The Sample Question Paper is available for class 6th to 12th for all subjects specific to the board including mathematics, physics and chemistry.




Review Highlights:
Oswaal Books makes CBSE prep for twelfth grade chemistry easier with this booklet, equipped with five Solved Question Papers and ten Self Assessment Papers based on an exam standpoint. This book supplies the reader with in-depth answers, as well as 'Oswaal Hints' as they move through the workbook to ensure they are understanding the material. You can access full solutions to each problem from the Self Assessment Papers on their website www.oswaalbooks.com or use the QR code provided.
Efficient way to prep a student preparing for CBSE exam in India.
This makes a great resource if your student needs some extra help studying for the math portion of the Central Board of Secondary Education exam (CBSE). Full of tips, hints, 'Commonly Made Errors', 'Mind Maps', and more. This test prep book guides students to become better learners while preparing them for the CBSE. Not only does the 13th edition have studying tools, it also has a section for students on how to manage stress and positive affirmations to repeat, creating a well-rounded and encouraging learning environment.
As students begin their preparation for the 2020 CBSE exam in India, Oswaal Books delivers a great tool to strengthen student's physics skills for class twelve. This book is a hybrid edition, complete with both in-book support and online help as students can scan the QR code within or go to the website to retrieve complete solutions. Students can enhance their understanding of physics concepts and theories by beginning with the 5 Solved Sample Papers (detailed answers and 'Oswaal Hints' included) and test themselves by completing the 10 Unsolved Sample Papers.
Buy this product at:
As an Amazon Associate we earn from qualifying purchases.