Academics' Choice Award™ Winner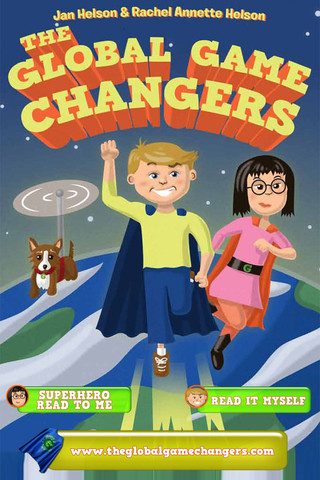 The Global Game Changers
Ages: 4 and up
Price: $16.99 (storybook ) - $4.99 (book app)
Type: Book, App, Storybook
By
Pixel Entertainment
Description
The Global Game Changers is a storybook that this new children's entertainment brand is built around. The story is about a team of fictional superheroes whose leader, Global Girl, and her sidekick, Little Big-Heart, and their trusty dog, Pixel, recruit real-life kids to help change the world for the better by doing good things for others without expecting anything in return. Along the way, the characters encounter and battle Krumi, the villian, represents apathy. In this book Little Big-Heart introduces the reader to his first recruits and their Ignite Good! stories; three amazing real-life superheroes who join the Alliance. The real-life kids who are featured in the book are Phoebe from California, who made the world better by helping a Feeding America Food Bank, Jaylen from Florida, who overcomes being a victim of bullying and starts an organization to help fight bullying against others called Jaylen's Challenge, and Hannah from Ohio, who does her part to fight poverty through an organization that she started called Hannah's Socks that provides socks to people in need. At the end of the book there is a call to action for the reader to be inspired to join the Alliance by visiting the interactive web community at www.theglobalgamechangers.com, where they can share their Ignite Good! stories, create their personal superhero avatar, download coloring and activity pages, learn how to utilize their talents to affect things they are passionate about, have fun, and be empowered to help make a difference in the world. This brand will be supported with the following: interactive web community, eBook, interactive book app, capes, watches, and monthly eBook and app story upgrades.

The Global Game Changers book app is an interactive adventure through the book's pages. Children can help Little Big-Heart fly, work with the real-life superheroes to Ignite Good!, and engage with the story to solidify the lessons of philanthropy in a fun and entertaining way. Kids are sure to be excited when they hear The Global Game Changers theme song, "Welcome to the Game" by famed musical team, Paul Buckley and Jack Diamond, whose credits include work on Seinfeld and Will & Grace. A wonderful and engaging way to inspire children to do good without expecting anything in return.
Review Highlights:
We loved reviewing Global Game Changers. My son truly enjoyed it and we read it more than 3 times. We talked about the importance of love land care for people we know and even people we have never even met! I recommend this to anyone that reads interactive apps and ebooks to their kids.
Filled with concrete examples of care, compassion and equality, Global Game Changers excites the young reader with a colorful and fun book app. Children from pre-k to about second grade will get a kick out of the adventures of Global Girl and Little Big-Heart.

The word, "fight," is immediatly questioned and redefined by Global Girl as using "heads, hearts and hands to battle things like need, hunger and hurt." The two superheros travel to different parts of the country looking for others to join the Global Game Changers. These soon to be superheros are compassionate, everyday children that are found helping others with issues such as bullying and homelessness. Their goal, to beat Krumi, a dark cloud of apathy that is spreading like a disease all over the globe.

I highly recommend this interactive book app. It introduces the universal concept of mindfulness and compassion along with adding a new twist to the definition of "superhero." Children will enjoy their experience for sure, but more importantly this title can be used by parents and teachers as a tool to begin discussions about the larger, and some would argue, essential problems that plague our society and world as a whole: a lack of care and compassion toward others. Hats off to Pixel Entertainment for having both their minds and their hearts in the right place.
Buy this product at:
As an Amazon Associate we earn from qualifying purchases.