Academics' Choice Award™ Winner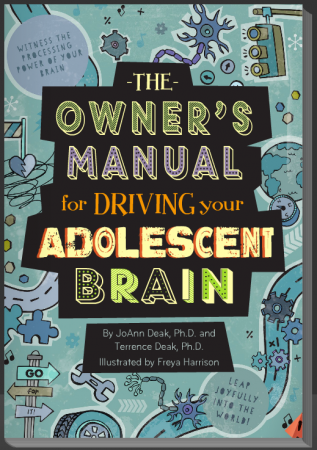 The Owner's Manual for Driving Your Adolescent Brain
Ages: 9 - 14
Price: $15.95
Type: Book
By
Little Pickle Press, Inc.
Description
Think you know everything about your brain? Think again! In this exciting follow-up to Your Fantastic Elastic Brain, you'll get the goods on glia and the news about neurons, presented in a fun and engaging format. Hang on to your hemispheres, and prepare to have your mind boggled as you learn about the workings of the brain in its second decade.
Review Highlights:
I wish this book was around when my 19-year-old was blooming. This "brain-based" research written for the adolescent gives them the power to see the big picture of growing up and be able to "ride out" and experience these years more successfully. The analogy of the car is perfect and makes so much sense to a teen who really wants to get his or her license and drive. The way the book is organized starting with the basics and adding complexity of certain aspects of teen life and structures of the brain involved is so helpful. It allows the basics to be taken in and understood and then tantalizes you for more. The gist is eat, sleep, play, exercise, socialize, explore, and protect will grow that adolescent brain well for adulthood. Special tenderness is paid to those supportive words to get outside your comfort zone often to do a really good job at supporting brain growth. The illustrations are visually engaging, light-hearted, and forgiving. Overall, a fantastic book, that I cannot wait to share with other parents for their teens.
I found this book to be both enlightening and encouraging to adolescents. I wish that this was around when I was undergoing my brain transformation. It would have helped me to understand myself a lot better. The book is full of memorable visuals and easy to understand explanations of brain development. As the mother of a two adolescents I appreciate the greater understanding of why my children react to thing the way that they do. A must-read for everyone who has driven (or will drive) an adolescent brain.
Buy this product at:
As an Amazon Associate we earn from qualifying purchases.