Academics' Choice Award™ Winner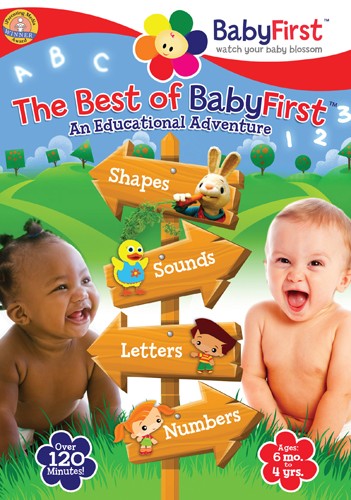 The Best of BabyFirst
Ages: 6 months - 4 years
Price: $9.98
Type: DVD
By
Mill Creek Entertainment
Description
Explore, Learn and Grow!

Best of BabyFirst - An Educational Adventure!

Watch your baby blossom as they learn and grow through the Best of BabyFirst's TV programs. The adorable characters introduce your child to basic building blocks like numbers, colors, animals, art, music and more! Enjoy rich, innovative content specifically designed for children aged six months to three years! Children will enjoy classic fairytales like Rumpelstiltskin and The Ugly Duckling that teach morals and lessons appropriate for young viewers in BabyFirst Tales. Join Fred & Fiona as they discover friendship and the everyday world around them. Harry The Bunny invites viewers to go on exciting adventures as he learns new words and concepts through playful exploration. My Pop Up Book captures children's imaginations by telling three-dimensional stories that inform and relate objects to their use in everyday life. Come sing and play during Swing And Sing and learn about nature in Safari Scrapbook. Laugh and learn with The Yoyo & Peanut Show, two funny circus clowns, who teach about opposites and that two individuals can be best friends, despite being very different. Friendly Jack encourages babies to engage their minds and imagination in unique and non-verbal ways. Tillie Knock Knock introduces them to the names and sounds of animals while teaching them basic friendship skills with her wonderful sense of humor!

Educational Values:
-Introduces Animals
-Nurtures Social Abilities
-New Vocabulary
-Celebrates Imagination
-Presents Coping Skills
-Naming and Defining Objects
-Introduction to Problem Solving Skills
-Inspires Creative Expression

About BabyFirst:
Launched in 2006, BabyFirst a fun-filled TV network with over 80 million viewers made just for tots and their parents. The programs are created by leading experts in child development and education, and provide interactive opportunities for parents and baby to bond, learn and explore together.
Review Highlights:
We let my 2 year old son watch 30 minute segments of this DVD and was completely engaged every time. He still asks to watch it again! Unbelievable!
Buy this product at:
As an Amazon Associate we earn from qualifying purchases.