Academics' Choice Award™ Winner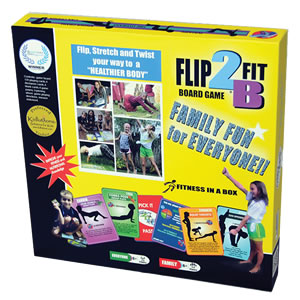 Flip2BFIt - Fitness in a Box
Ages: 6 and up
Price: $34.95
Type: Game
By
Flip2BFit Inc.
Description
Flip2BFIt is Fitness in a Box -- Learn the basics of yoga, cardio, stretching and strength as an introduction to cross fit and getting your body up and moving everyday! Learn the basic facts about nutrition and become mindful of words such as antioxidant and what a serving of fruit truly is.

No equipment or experience needed; Create healthy lifestyle habits for your family - students and or friends through the fun of playing a board game.

Fitness Exercise Game for Kids and Adults - Use at Home, School or Family Game Night - A new breed of board games creating healthy lifestyles.

Flip2BFit the new and exciting board game that gets you up, moving, jumping, laughing and simply having fun.

Flip2BFit incorporates innovative activities based on yoga, cardio, stretching and strength categories that get you motivated and moving.

As an educational game Flip2BFit:
- Promotes mental and physical challenges
- Takes unstructured activities such as running or jumping and turns them in to competitive and team participant activities
- Creative thematic approach helping informed choices to be made while participating in a fun activity
- Develops motor skills, coordination and muscle memory
- Expands the contemporary learning experience of eyes and ears by including movement and play
- Encourages managed movement allowing physical activities in an organized atmosphere
- Balance, weight transfer, jumping twisting, stretching, repetition, strength and mental control build fundamentals necessary to participate in all sports
- Provides student assessment through an activity that allows physical development through an enjoyable experience
- Provides endless hours of activity and fun for a classroom teacher to utilize with students.
- Helps shy students overcome shyness and learn to perform in front of other students
- Helps prevent bullying through the more aggressive students helping the quieter students when team play is encouraged throughout the game.
- Promotes real life experiences of competition - team work and individual goals to build up an expectation of what life will bring
Review Highlights:
The program promotes cognitive development, improves student behavior, focus, and teaches overall wellness. It was a welcome addition in my classroom. My students became much more engaged and less distracted after we played. I will definitely continue using this game in my classroom for years to come.
This is a fabulous game for kids and adults. It is fun played in small or large groups. It teaches health and fitness fun for life.
I loved the emphasis on fitness and health and helping kids to enjoy doing it! As you play you learn different exercises. You also learn about endurance, strength as well as teamwork.
Buy this product at:
As an Amazon Associate we earn from qualifying purchases.