Academics' Choice Award™ Winner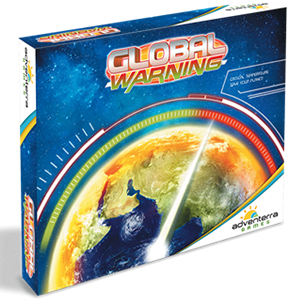 Global Warning
Ages: 10 and up
Price: $24.95
Type: Game, Card Game
By
Adventerra Games
Description
The whimsically titled Global Warning asks 4 to 7 players to challenge each other to solve the greatest number of environmental problems afflicting the Earth. At each turn, problem cards appear on different topics that, if not resolved with the right solution cards, cause an increase in the earth's temperature. To win, everyone must play as a team. If the temperature indicator reaches the maximum level all players lose the game!

Players work together to clean up the earth and slow climate change while the temperature rises with each turn. Can you and your friends slow it down before "Game Over" happens for you AND Planet Earth? Teamwork and up to 90 minutes of play is needed to win! Ideal for 4 to 7 players. Makes a terrific multi-generational game night. Open the box and distribute the scoreboard, 87 solution cards, 57 problem cards, banknotes, 3 dice, 1 disk plus illustrated rules.


Review Highlights:
Global Warning is an educational board game about environmental awareness. Topics such as smog, green house gases, recycling, composting, fuel efficient vehicles and renewable energy were covered during play. The format of the game was unique but not too difficult to get started with my 10 and 12 year old boys. After about 5 minutes they both started applying the content on the cards to the world around them. I sat back and listened as they slowly internalized the idea that the earth is a living entity and we need to take care of it like we take care of ourselves. Although my older one rambled off his list of "facts" he already knew about why the world was going to end soon, the cards helped to keep the conversation grounded and solutions were offered at every turn. We enjoyed the game together and learned a lot about the many environmental problems we face today.
What a great game! I think I learned more about the earth's problems than my kids did. It took a few minutes to get started but once I understood the local and global numbers and how that worked, we were ready to play. This game gave us so many facts about the problems of our earth today, it was a bit disturbing. Interestingly enough though, after playing the game, my kids wanted to check and make sure there was no paper or cardboard in the garbage can. I think they got the message! I highly recommend this game to any parents teaching their kids about current environmental issues.
The game develops teamwork, cooperation, problem solving, critical thinking, decision making, and provides near endless amounts of information about environmental problems.
I liked the theme of the game. My boys were able to read each card and learn so much during each turn of the game. I liked the thoroughness of each fact on the playing cards. I also enjoyed the fact that we were learning so much about global warming and climate change in a board game!
Buy this product at:
As an Amazon Associate we earn from qualifying purchases.