Academics' Choice Award™ Winner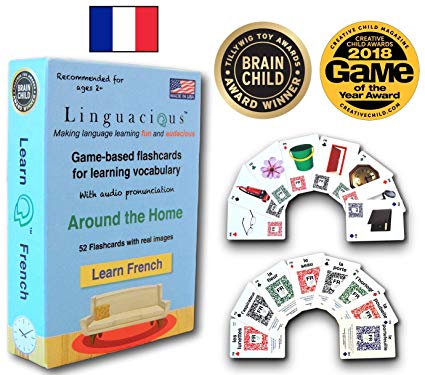 Linguacious Vocabulary Flashcards - Learn French - Around the Home
Ages: 2 and up
Price: $22.99
Type: Game, Book, Flashcards
By
Linguacious
Description
The Linguacious language flashcards, developed by PhD language learning experts and parents of multilingual children, are the only physical language flashcards in the market today that allow kids (and adults!) to practice all four language skills (Reading, Writing, Listening, and Speaking) independently through fun games and the only ones that offer audio by a native speaker of the language right from the cards (simply scan the QR code on each card with the Linguacious app to hear the pronunciation). The innovative audio feature through QR codes is especially useful for those parents who do not speak the language themselves but would like to ensure that their kids are learning correct pronunciation. Each of the vocabulary games suggested on the Linguacious website caters to a different level of cognitive and linguistic development, so there is something for all ages starting at 2 years old. The Linguacious flashcards are a social experience and one that gives kids that initial spark and enjoyment when starting with a language, so that they have the motivation to continue their learning of the language.

Review Highlights:
Linguacious Vocabulary Flashcards teaches basic conversational French, creativity, and some critical thinking and social skills. I would like to try the Spanish version too!
It was simple to use and the audio component with a native speaker was very helpful. I really liked the size and simplicity of the cards. They are about as big as a card deck, so you can keep them anywhere just to look at. My kids kept them in the car so they could look at the pictures and say the words on the way to the store and soon they can practice on the way to school. I really liked the audio component so I could double check if we were saying them properly.
We love innovation! The use of QR codes to scan for pronunciation by native speakers is brilliant. The added games such as Watch Out for the Thief and Vocabulary Train definitely add that important critical thinking element, which will improve retention and reflective thinking.
Buy this product at:
As an Amazon Associate we earn from qualifying purchases.