Academics' Choice Award™ Winner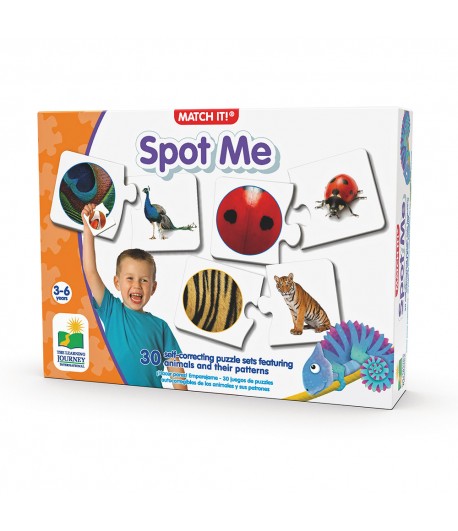 Match It! Spot Me
Ages: 3 - 6
Price: $14.99
Type: Game, Toy
By
The Learning Journey International LLC
Description
Match It! Spot Me is a unique way to teach little ones about colors and patterns. Simply match the patterned spot to the object it resides on. Kids will learn about textures, patterns, details, and more. The 30 puzzle cards are self-correcting as only the correct match will fit together. Recommended for ages 3-6 years.





Review Highlights:
I liked that we could see a zoomed in view of the different animals. We could see all the details of their fur, scales, or feathers. I liked that we had to really focus on colors in order to match and even look beyond their skin to determine which puzzle piece went together. It was a great way to start the discussion on different animals and also compare how they are the same or different.
The pieces are sturdy and fit together easily. The pictures on each piece are colorful, detailed, and realistic. I like that each set is self-correcting, so that children can only attach the correct pieces together.
Children must use their observational, problem-solving, and motor skills to correctly match the pattern puzzle piece to the actual object. Skills practiced were color matching, identifying animals, fine motor, textures, and patterns.
Buy this product at:
As an Amazon Associate we earn from qualifying purchases.